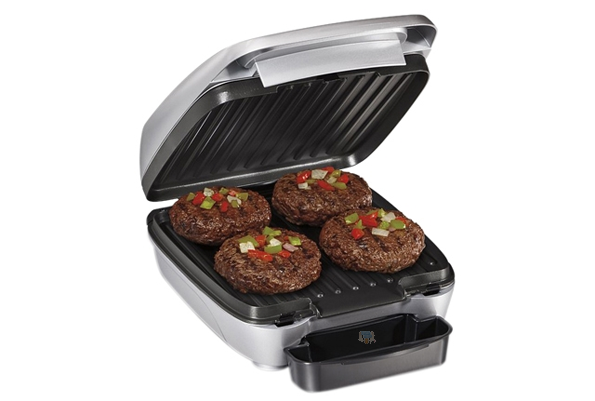 Now that it's getting colder outdoors, today's deal may pique your interest if you already miss using your BBQ. Newegg currently has a sale on their Hamilton Beach Stainless Steel Indoor Grill, which you can now purchase for $29.99 (plus $7.99 shipping) - the regular price of this grill is $49.99. When you're not looking on Newegg for this Hamilton Beach Stainless Steel Indoor Grill, it would cost you $59.99 to buy it at Sears, and it's $56.92 on Amazon. This is a pretty decent deal, especially if you're just used to pan-frying or using your oven to cook the meat you'd usually put on the BBQ when it's the winter time.
It's the perfect solution for these colder months! This Hamilton Beach Stainless Steel Indoor Grill also has removable plates, so you could easily wash them (they're also dishwasher safe).
I bought my first indoor grill roughly 7 years ago, and I still have it to this day. It still works great, and I even use it during the summer months as well (my condo has a "no BBQ" rule, so I unfortunately can't put one out on my patio). From juicy hot dogs to nicely simmered burgers, I use this indoor grill on a semi-regular basis - even chicken is great on it! I usually add a drop of avocado or olive oil to my chicken afterwards for added flavour.
At this time, I've included a snippet of a review of this Hamilton Beach Stainless Steel Indoor Grill from a satisfied Newegg customer below:
Caught this one on sale here and it's a really decent grill for the cost. The pro's include the stainless Steel removable grills that are dishwasher safe, the almost square cooking surface that allows for four normal sized hamburgers to fit easily, and the hinged lid for thicker items like steaks.
Get this deal before it's gone! Happy hunting, Bargainmoosers!
(Expiry: Unknown)