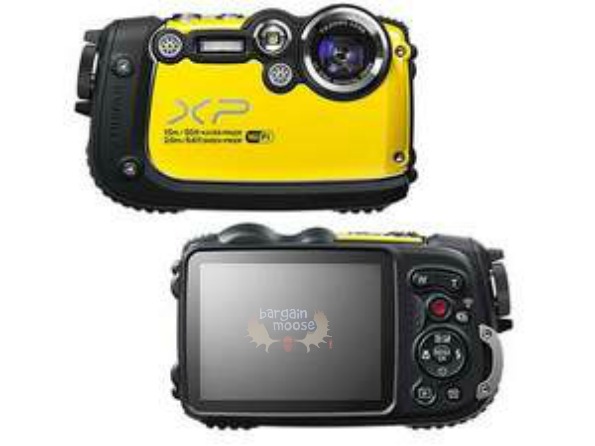 Be ready to capture all your fun family summer memories with the FujiFilm Finepix XP 200 Camera from Newegg.ca for only $239.99 (regularly 299.99)!
I'll be the first to admit that sales named after sales that take place during other times of the year kind of tick me off.  Christmas in July and boxing week in July honestly just make me shake my head.  So Newegg's Mid-Year Black Friday Event had me rolling my eyes a little bit.  Are we really that lost for creativity that we have to name an event in July after one in November?  How about hot summer sale?  Ok, rant over.  After I got past the annoying sale name, I was looking through the deals that are mostly on a whole bunch of gizmos and gadgets that I don't understand and am not sure what I would do with.  But I did stumble on the great deal above for a FujiFilm Finepix XP200 camera, on sale for $239.99 (regularly $299.99).  Compared to what I found at The Source ($269.96 on sale) and from a secondary seller on Amazon.ca ($274.01), this is a nice price on a nice camera.
This camera is essentially everything-proof.  It has four way protection, making it waterproof to 50 feet, shockproof to 6.6 feet, freezeproof to 14 degrees F (minus 10 degrees C) and dustproof.  The pool, splash pad, beach, and pretty much anywhere else I could think of taking this camera have nothing on that four way protection!  I think this camera would be pretty perfect for beach vacations where being dropped, getting wet, and sand are major factors.
The camera features a 16.4 megapixel ½.3" CMOS, a 5X optical zoom lens, and full HD 1080P video recording capability.  There is a 3.0" LCD monitor that is treated with an anti-reflective coating which helps to see the screen even in bright sunlight.  The Fujifilm Finepix XP200 also offers wireless image transfer allowing you to transfer up to 30 photos at a time to smartphones.  You are also able to access your camera remotely from your smartphone or tablet.
The Fujifilm Finepix XP200 is available in both blue and yellow.  I really like the yellow one as I feel like I might have a better chance of finding it when I put it down in a "safe place" that I forget about almost immediately.
Shipping depends where you live, but for me it was around $7.
(Expiry: Unknown)