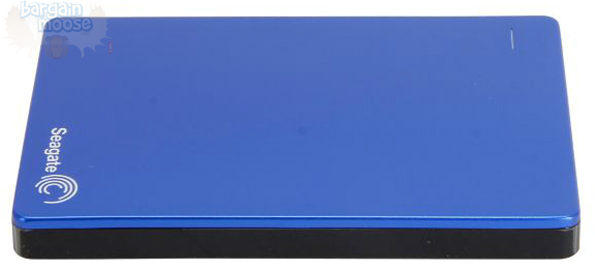 In the ongoing Black Friday/November sales from Newgg.ca, I've spotted a decent deal on this Seagate 2TB Portable External Hard Drive there. Originally priced at $159.99, the hard drive is down to only $109.99 with free shipping. And what's even better is that there is a coupon code to get an extra $10 discount. Here are all the details:
Click here to get your Seagate hard drive @ Newegg.ca now
CouponCode: STBUP22
Discount: Extra $10 off
Expires: Unknown
This means that the final price of this Seagate hard drive is $99.99 with free shipping to your home. That technically equates to $0.05 per GB for storage, that's a great price.
The Seagate STDR2000102 Backup Plus Slim 2TB USB 3.0 Portable External Hard Drive comes in a blue finish, which may or may not be to your liking… but it looks like you can also select from the black, red or grey as well. I've just pictured the blue one above.
One of the points in the features list really stood out to me:
Features mobile backup using the Seagate Mobile Backup App
This means that you can schedule a local backup of the drive, which is a really good idea. When you're at home, the drive could back up over your wi-fi connection, or you can also uses service slike Dropbox and Google Drive.
I'm a big advocate of backing up man, many times! On my desktop PC at home, I use the Carbonite service which automatically backs up all my files on a regular basis. However, I am also extra carfeful when it comes to my personal files, as there are business files as well as a lot of important personal family photos. I've got a secondary backup in the form of an external hard drive, similar to the one above. Every couple of months, I do an extra backup on to the external hard drive, and store it away somewhere safe. Maybe I'm too safe… but I have just heard of so many people relying on one service and ending up losing out on some of their important files.