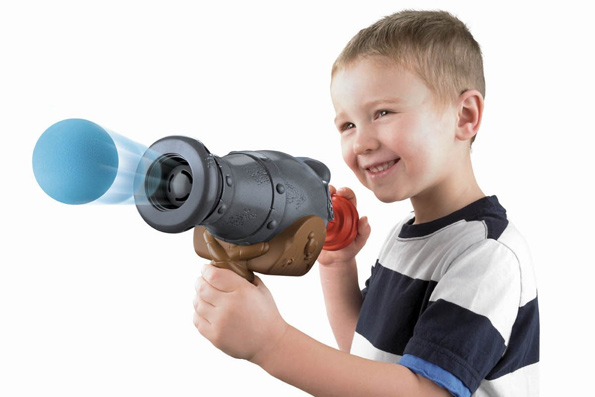 *** Bump! This toy is now available at an even hotter price ***
If your child is all about Jake and The Never Land Pirates, then perhaps he or she will like this role-play item available at Walmart. Right now you can head on over to Walmart.ca and purchase this Never Land Cannon Launcher for only $7! This would make an excellent stocking stuffer or Christmas gift for sure.
Your child will be able to hold onto the handle of this Jake and The Never Land Cannon Launcher and fire foam balls at Hook or possible other "pirate enemies" like their siblings or the family pets. For just $7, this launcher comes complete with 3 foam balls.
Not only is this the best price you will find on this toy, but you also get to benefit from a few different shipping options as well. Thanks Walmart! Another great feature about Walmart is that they provide fast shipping. If you are an early bird, this is definitely a great item to purchase and wrap up for under the Christmas tree.
To give you a little idea on price comparison, here is the price on this Jake and The Never Land Cannon Launcher elsewhere:
This toy is best suited for children ages 3 – 5 years. The Walmart website says that this launcher comes with 3 foam balls. If they are foam balls, beware they don't get eaten. I know my son likes to take little chunks out of foam toys – and so does my dog.
While reading the reviews at both Amazon and Walmart, some consumers have not been very happy with this product. While the manufacturer's suggested age is 3 – 5, many reviews say that it was next to impossible for their 3 or 4 year old to use. So by the sounds of it, you should be prepared to help your child launch the cannons. As always, if you are not happy with the product – you can always return it at your local Walmart store.
This offer will only be available at Walmart.ca for this price while quantities last. Walmart Canada no longer offers free shipping like they did when I originally wrote this post, but they do have a few different options available. If you want to have your parcel shipped for free, you can choose between picking it up at your local Canada Post Office or your local Walmart Grab & Go Locker. Otherwise you have to spend $50 to get free shipping right to your home.
(Expiry: Unknown)