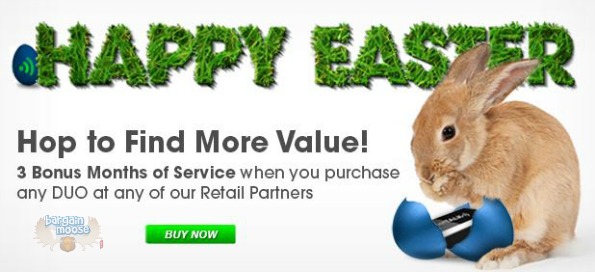 There's a fabulous offer going on over at netTALK right now. When you purchase the netTALK DUO at any local netTALK retailer, you will receive an extra three months of service for free with the following coupon code.
Click here to find a Canadian retailer to purchase DUO (I had some difficulties with this link)
Click here to buy the netTALK DUO from Walmart for $44.93 + Free Shipping
Coupon Code: EASTER2013
Discount: 3 months bonus service
Expire: 31st March 2013
You use this coupon when you register your DUO online. The Easter promo will give you:
3 BONUS Months of Service with your New DUO Purchase
Full Feature Phone Line
Select a Free Phone Number or Transfer Your Existing One
Fine print:
Offer valid in U.S. & Canada for devices purchased from any retail partner's locations or online stores (or direct at netTALK.com for U.S. customers only) starting 03/20/13 until 03/31/13. You must activate your DUO devices by midnight EST 03/31/13 in order to redeem your 3 BONUS Months of Service offer.
I could talk to you about the netTALK DUO I have, but I would prefer to quote one of our great Moosers from the last time I posted about netTALK. Mooser George said:
I have netTalk duo ( connected directly to the router ) from December 2011 and for sure it's work very well ! Each day local calls in Toronto and weekly calls with Windsor and Europe. Since January 2012 I FIRED my home phone.
I can't have any comment about their customer service because it wasn't necessary and also I'm really happy with my $400/yearly in my pocket !
You should be too !
You have got to love saving money!