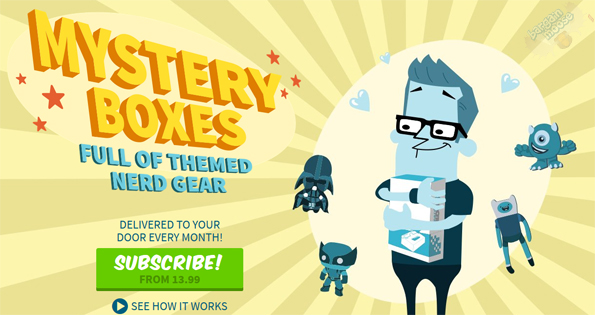 We've all heard of monthly subscription boxes by now, a monthly delivery of a themed item to your door, such as Topbox for cosmetics, Panty by Post for panties, Luv my Box for adult novelties, Peekapak for kid's crafts. But have you heard of Nerdblock? Nerdblock are a Toronto based company that sell mystery boxes full of nerd-themed gear. They're a sister site to Shirtpunch.com. I stumbled on Nerdblock recently and I am in love!
The subscription prices for Nerdblock range from $13.99 to $19.99 per month, plus shipping. If you register now, you'll receive your first subscription box in July. You can start and stop the subscription at any time, you're not tied in for any set period.
There are four options to choose from:
Nerd Block Classic – a collection of well-known brands, from Monster's Inc to Iron Man
Nerd Block Jr Boys – specifically targeted at boys, aged 6 to 11
Nerd Block Jr Girls - specifically targeted at girls, aged 6 to 11
Horror Block – a pop horror subscription box
I've been googling for coupons to see if you can save anything on the Nerdblock subscription costs, but cannot see any discounts… yet. I will be emailing them and seeing if there's anything extra for the Bargainmoosers! Watch this space.
I spotted this sentence in a recent email from Nerdblock:
Every month one lucky Nerd Block subscriber will be randomly chosen to win theMonster Block in addition to their regular subscription.
Here's the image of the monster block this month: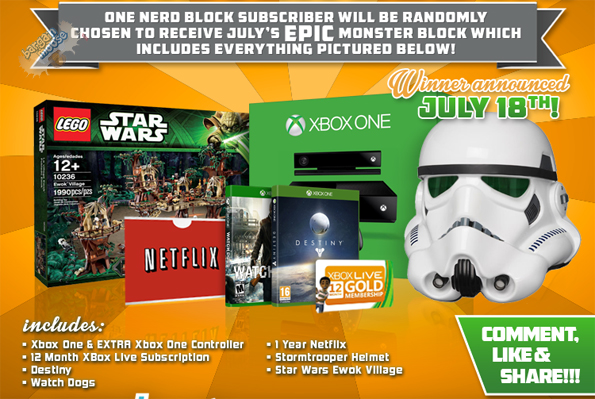 That's a whopping prize! I wonder how many subscribers they have and what are the chances of winning…
Reviews
Over on Mysubscriptionaddiction.com, they've posted a review and an image of the June 2014 subscription box from Nerdblock. You can see exactly what kind of thing to expect in your box. I love the "Who you gonna call" tee.
Shipping Costs
Canadian shipping is $8.75 per box… which is a little steep in my opinion. However, the value of the goodies in the box are worth far more than the total amount plus shipping. E.g. The classic box plus shipping and tax comes to $32.48 per month.
(Expiry: never?)