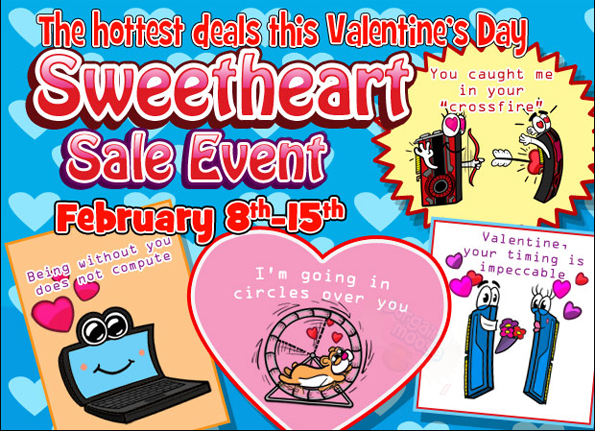 Valentine's is coming, so what better way to treat your partner than by buying them some computer components or electronics... well, that's what NCIX seem to think we're all going to do! They're running a "sweetheart sale," with some offers on the aforementioned categories.
There are a few good deals in there, as well as some lukewarm deals, so it's not all hot to trot.
Here are a few good examples:
Benq  XL2410T 23.6" monitor for $269.99 & free shipping ($100 off - compare at $300 @ CC, $362 @ PCC, $361 @ BD) - very good price on this, comparing it to other Canadian electronics stores.
Saitek Eclipse Lite Touch Wireless Keyboard for $29.99 ($120 off - compare at $132 @ TD, $139 @ Soho) - very big price difference there!
Western Digital 750GB external hard drive for $89.99 ($20 off - compare at $120 @ CC, $100 @ BB, $110 @ ME) - handy for a little external storage, hard drives are getting very pricey these days.
So here's my opinion: if there is some piece of electronics that you've been searching for, have a look through the NCIX sale to see if there's something there for you. Make sure you do a price comparison though, but you might be able to find a good deal.
And remember about shipping - you will be paying extra for shipping on some of the items, so chuck stuff in your cart to see how much that is going to be before you buy.
I'm going to tag this post with Valentine's Ideas, but I don't really this it is!
(Ends 15th February 2012)