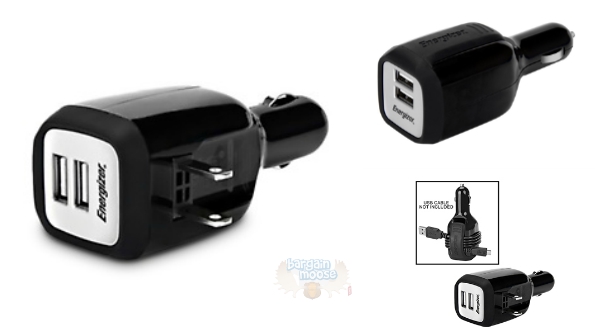 NCIX.com has discounted this great little Energizer Dual USB Wall & Car Charger from $19.99 down to $6.99. While the little device alone does not qualify for free shipping, NCIX.com is offering a rare free shipping on $15 or more for their weekly Summer Sale specials. All items in the weekly specials qualify for this free shipping at $15 as long as they are in stock.
This unit is special because it has two USB ports and the charger can go into a regular wall outlet or be used in your car to charge. Essentially, it is dual both in the number of ports and in the ways you can charge those devices. Rather than some flimsy 1A charger, this charger outputs 2.1A power: this can charge a tablet. Two devices can charge at the same time. While the car plug is always out, the wall plug folds in for easy storage and folds out when you need to use it.
The device also has an integrated cable storage system - cable not included - for decluttering your charging space. This would be especially useful in a car where you do not have a lot of extra space to begin with. The only reviewer this device has had so far says it is a great price and great quality charger.
I price compared with other online retailers. The same Energizer Pl-9947 2.1A Dual USB Wall & 12V Car Charger retails for $14.99 @ FactoryDirect and $19.99 @ EC Computers Canada. I could not find the same unit at Best Buy Canada, but the cheapest dual USB car charger was on sale for $8.99 ($5 off) and is now sold out. That charger didn't even have the wall-charging option.
Given the fantastic price and the low shipping threshold, I figured this was a good deal. Below, I have added three of these units into my cart so you can see that the free shipping applies:

I think these would make great gifts (and stocking stuffers), thus buying more than one seems pretty reasonable. However, the rest of the sale section is full of great deals you can add on to this charger. This Logitech MK120 Desktop Keyboard and Mouse Combo USB - Black was $24.99 and is now $14.99. I like this Microsoft Wireless Mobile Mouse 1850 Black w/ PLUG-AND-GO Nano Transceiver that was $24.99 and is now $12.99. For a fun little gadget, try the Bluetooth Wireless Remote Shutter SELF-TIMER Self Timer Selfie Remote for Android and IOS that was $6.99 and is now $3.99.
By the way, NCIX.com has just given us an exclusive coupon codes for $10 off $95.
(Expiry: 22nd July 2015)