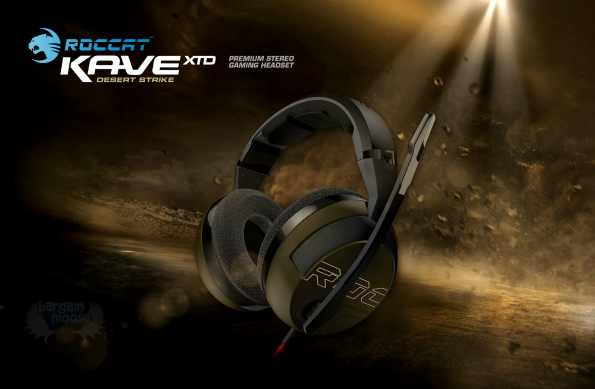 NCIX.com often has amazing deals and this is one of them. NCIX.com has reduced the Roccat Kave XTD Stereo Desert Strike - Military Edition Premium Stereo Gaming Headset from $89.99 down to $39.99 with free shipping.
This headset is not carried at many other online retailers. I found it at Amazon Canada for $93.50. You can also purchase it in the Amazon Marketplace for $77.95 plus $13.74 shipping. Next, I found the headset at Newegg Canada for $95.99 plus $12.85 shipping. Even Newegg.com (US) sells the headset for $69.99 USD.  I could not find the headset at Best Buy, Walmart, TigerDirect, or Staples Canada.
Now that we have established that this headset is an excellent price, here are some features.
Microphone
The detachable microphone has noise cancelling features so you are heard and not the lawnmower outside, the drying running in the background, or your dirty laundry revolting in the basket saying "wash me..."! The microphone has a 10Hz to 10KHz frequency response.
Headset
As the microphone is detachable, you can simply use this as a regular headset when you are not gaming. The headset has a semi-open back design with round ear pads (instead of oblong). While not the best frequency response at 20Hz to 20Khz, this will certainly do the job. The 23 Ohm impedance is pretty standard. The headband is padded for wearing comfortable for many hours.
Cable
The cable features a built in remote giving you control over the volume and even mute. With 8.2 feet of cable, you have quite the distance. This is pretty great if you use your headset with a console and want to sit on the couch.
While I could not find reviews for the 'Desert strike' version, I did look at a couple reviews for the regular edition. Reviewers seemed to agree that they liked the chunky design, that the headphones were very comfortable, and that there was good overall sound quality. However, they didn't quite like the cable as it isn't modular. They often said how the headset was good, but it doesn't really excel at one thing.
At this price, I think this is most certainly a worthwhile buy. While this is a one-day deal, quantities being sold at this price are limited so you will want to purchase as soon as possible.
(Expiry: 25th June 2015)