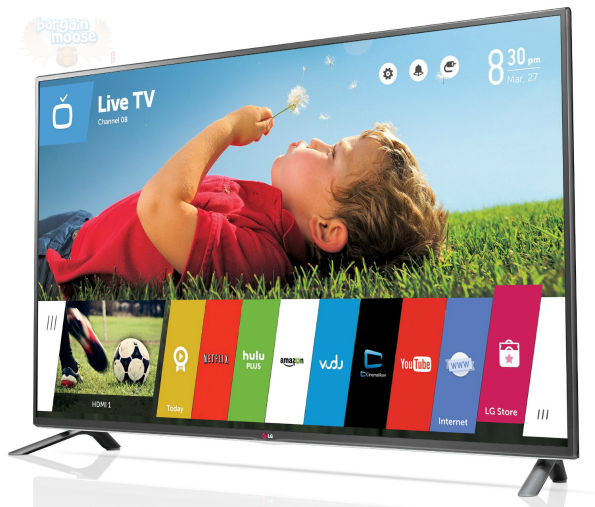 NCIX.com has a killer deal on the LG (55LB6300) 55" 1080p 120Hz IPS Smart WiFi LED TV with magic remote. Originally $1,599, this television is now on sale for $899! This television also qualifies for free ground shipping, which probably saves you around another $50.
As with all electronics, I thoroughly price compared this unit. In the end, I was very pleased with the price at NCIX.com as no other company even came close!
$1399.95 @ Best Buy Canada
$1453.06 @ Amazon Canada
$1279.99 @ Dell Canada
$1449.99 @ Costco Canada
$1399.99 @ Newegg Canada (refurbished)
Yup! I could not find another one of these televisions below $1000, let alone at the $899 mark. NCIX.com has really outdone themselves with this deal.
NCIX.com does not have any reviews for this television yet, so I borrowed one off of Best Buy Canada. This reviewer positively raved about all the features this smart TV has to offer.
This TV has gone above and beyond my expectations. I used to be Sony or Samsung only, but after reading many consumer reports and hearing the goods from friends who bought lg, I decided to take the plunge. What an amazing company. Technology is top notch. The magic remote is really cool. Pairing devices is easy. It connects to the internet with ease, and most importantly, the picture is unreal!
This is just part of his review; the rest is just as positive. The TV is thin and lightweight so you can move it and set it up by yourself if necessary.
I am not too familiar with television technology - I just have not stayed caught up on all the new developments. However, I do know that SMART Televisions are the future of TVs. They allow you easily to access content from the web without needing any additional devices. Watch Netflix, YouTube, and more directly from your television. The TV features built-in WiFi with smart share.
This TV comes with everything you need and more. The 120Hz refresh rate gives you crisp clean viewing and the 55" LED screen will show off your HD movies in true splendour. There are three HDMI ports and three USB media ports as well.
Given the huge price drop for this television and the free shipping - I highly recommend this deal! It is one of the best deals I have seen on a television of this size for a while.
(Expiry: Unknown)