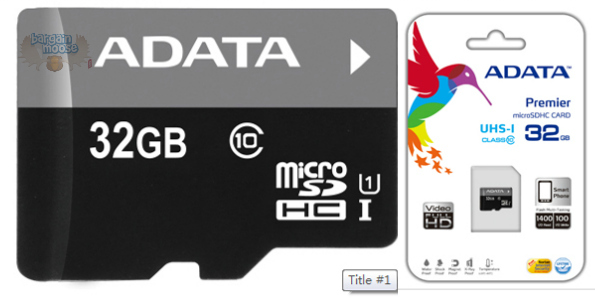 NCIX.com has discounted the ADATA 32GB Premier UHS-1 CL10 Micro SDHC With Adapter from $19.99 down to $11.99 with free shipping.
I tend to watch for deals like these as many electronics in my household use expandable memory cards. My partner's Dell Tablet uses expandable memory cards and I think his Samsung Galaxy does as well (not sure on that). The tablet uses microSD cards, as they are small enough to fit into the side of the tablet.
I use SDHC cards for my Sony DSLR camera. The camera needs a full SD card so I am glad that this memory card comes with the appropriate adapter. This adapter is also quite useful for downloading photos and uploading data onto the card. Many computers come with SD card readers that you would need the adapter to use.
There are a couple other deals on different size microSD cards that I wanted to mention. The ADATA 16GB memory card is on sale from $14.99 down to $7.99. Also, if you need a larger card, the ADATA 64GB microSDHC card is on sale from $44.99 down to $29.99. Per GB, the 32GB card is the best deal as you can see from this comparison:
16 GB card: 50¢ per GB
32 GB card: 37¢ per GB
64 GB card: 47¢ per GB
The 32GB microSD card is certainly your best choice. All of these microSD cards are class 10.
Now, I could not price compare this exact model but I did price compare similar microSD cards at the same size. Walmart Canada sells a RetailPlus 32GB Class 10 MicroSD Card for $22.88. Best Buy Canada's cheapest 32GB class 10 appears to be the Centon Micro 32GB for $18.98. Amazon Canada's absolute cheapest 32GB microSD card is this no name card by BlingBlingStore on sale for $14.85.
Even comparing the ADATA microSD card to the cheapest cards of the same size - 32GB - and the same quality - Class 10 - this is the cheapest I could find one of these cards. As the card also comes with free shipping, unlike some of the competitors, you score an even better deal. You may wish to grab a couple of these in the rare case that one corrupts. I do believe ADATA offers lifetime warranties on their products.
(Expiry: 6th May 2015)