This is not a blog post for the technophobes! If you have a fear of electronics, look away now! NCIX.com is having an Easter Sale, between the 8th and 14th April, 2009.
First of all, here's the main reason why I am blogging about NCIX. If you're buying some computer parts or electronics there, sometimes the shipping can be a little bit steep. There's a track for you to get free shipping on ANY order though – just add one of their $10 gift cards to your cart.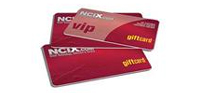 If you were going to be spending $10 or more on those shipping fees anyway, then why not just throw the gift card into your cart instead? It means you can then use it towards a future purchase, or even give it to family or friends who need to make an order. For example, I added a Benq 24" widescreen monitor to my cart, costing $300. Shipping was $19.88 anyway, so it makes hella more sense to just add the $10 gift card and get free shipping on your total order instead!
Secondly, NCIX Canada has a really decent Easter sale on there as well. Let's see if I can mention a few hot bargains for you.
There are quite a few more deals on the easter sale pages, these are just a few.