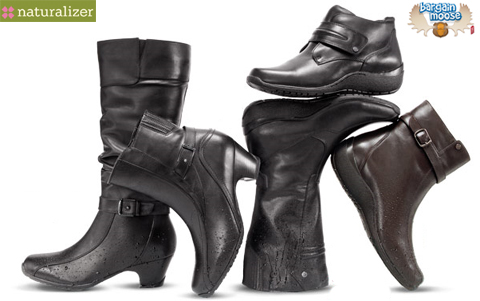 With this Naturalizer promo code , you can save 20% on your online shoe order!
Click here to use the Naturalizer promo code online
PromoCode: WER88
Discount: 20% off
Expires: Unknown
I like the styles of some of the shoes on Naturalizer.ca. These Dixie black leather waterproof boots would be great for the winter. They are $185, but would be $148 when you apply the promo code. Also great for the winter would be these Bernice boots, which I absolutely love! They are priced at $119.99, but would be $95.99 after the discount.
I know some people think that Naturalizer can be expensive, but when it comes to footwear, I don't skimp. You can pay pennies for cheap shoes which look good, but they can be so uncomfortable that you end up never ever wearing them. For my shoes, I always tend to spend a bit more to make sure I have good ones, especially when it comes to things like boots.
Please note: when I was testing out this promo code, I firstly added something to my cart and tried it there. It said that the promo code was applied, but it didn't appear to show a discount. I proceeded through checkout, and I noticed that there is another opportunity to add the promo code, just before you enter your payment information. I added the WER88 promo code in there, and the shopping cart updated with the correct discount amount.
Happy shoe shopping!