Nair Coupons: Get Yours Here!
I see on the Nair Canada website that they are offering some free coupons if you sign up.
The coupons available:
Get $1 off any Nair cream
Get $2 off any Nair wax
I've just signed up and I'm waiting on the coupons, so I don't know any expiry dates yet.
I once tried to use the Nair waxing strips on my leggies. I was going to Spain for a week and I didn't want to have to bother shaving them every so often. Now, I'm not very good with pain. In fact, I'm absolutely against voluntary pain, which many ladies seem to frequently have. Piercings - none. Tattoos - none. So waxing my legs was a big step!
At the time, my partner was on pretty strong painkillers for a bad back. So I decided I would pop a few pills and wait an hour, to try and prepare me for the experience. I downed a few of those, and tried to mentally prepare myself for the oncoming torture.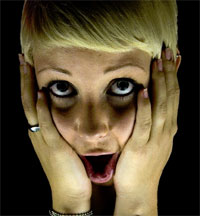 I warmed up the little wax strips in my hands, slapped them on my legs and proceeded to wax.
Oh.
My.
God.
I think I managed it half way up one leg, and I just couldn't take it any more. The ankles!? Such pain!? Who would torture themselves like this on a regular basis!?
A few months later, my brain had kind of forgotten the pain, and I decided to try again. This time, my little friend "Smirnoff" would help me out. Better living through chemicals, eh?
So I got quite drunk on voddie and coke, to see if that improved the torturous depilatory experience. Once again, my feeble brain couldn't take the pain. So there I was, drunk on the fruit of the potato, with half a hairy leg.
Waxing just isn't for me.
Thanks Zunami.