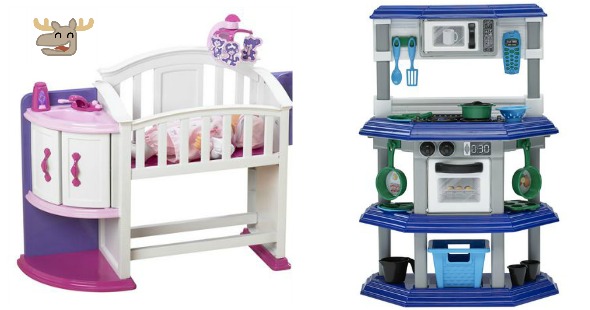 Christmas is coming, and quickly too. Before you know it we will be running around like chickens with our head cut off trying to get our Christmas shopping done. Why not get a bit of a head start and snag this awesome (and very affordable) My Very Own Gourmet Kitchen playset from Walmart Canada for just $25. If this one doesn't suit your kiddos then check out the other My Very Own playsets for just $25 as well. Walmart has a few different options when it comes to shipping.
Where else can you get a kitchen play set like this for your kiddo for just $25? Quick, snag this My Very Own Gourmet Kitchen from Walmart.ca while you still can, stock is already limited online. While there is no original price listed with this particular item over at Walmart.ca, I can guarantee that this is a fabulous price. Toys R Us and other Canadian retailers sell all their kitchen pretend play sets for almost double this price, and even this specific product retailers for $77 and up over at Amazon Canada.
This kitchen set has a total of 19 pieces and is best suited for kids aged 1 through 3 or 4. The set includes:
microwave
range
grill area
conventional oven
dish organizer
basket for storage
cups
dishes
silverware
pots
pans
cooking utensils
pitcher
cell phone
colourful label
There is also lots of shelf space as you can see, to store all of these items. You will want to go out of your way and grab a few food sets for your little one I am sure. I always see adorable ones at Walmart.ca or Amazon.ca for very reasonable prices. What about this Kid Connection 120 Piece Food Playset for just $10? Maybe that is what you can add to your cart to get your total to $50 to get free shipping right to your door! If not, Walmart Canada has a few other "My Very Own" play sets fro just $25.
When it comes to shipping, Walmart.ca has a few different options for their customers. If you spend $50 or more then you will get free shipping directly to your home. Otherwise your best options are to either have your item shipped to your closest Canada Post Office for free, of if your local Walmart Canada store has the Grab & Go lockers then those are free as well. Though it appears that this set is the same price in stores as well, so you can always cross your fingers and check your local Walmart for this toy.
(Expiry: Unknown)