My Spring Shoes Canada: Extra 30% Off All Clearance Styles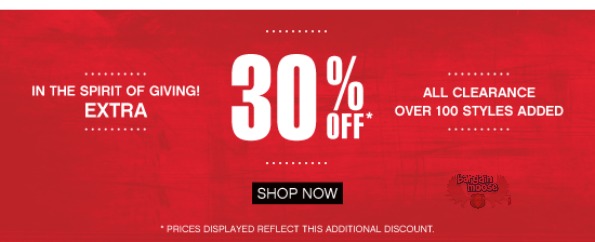 My Spring Shoes Canada is offering an extra 30% off already-reduced styles of shoes.  Prices displayed already reflect discount.  Offer is valid for a limited time only while quantities last.
I love the comfort of flat shoes and these Moret flats in yellow, were $30 and are now only $10.49.  These are a two-tone canvas upper with rubber braided rope sole and rounded toe.  Perfect for most of my seasonal walks.
If you happen to be looking for a dressy heel, these Mayle high heels in metallic misc were $50 and are now $20.99.  These are a towering heel with bow detail and all-over sequin detail.  I think these would look great with jeans for a casual look or an evening dress for that night out to dinner.
There are also many styles for men, like these Norgard sneakers that were $50 and are now just $10.49.  These are available in grey misc or navy with textured upper and rubber sneaker sole.  They have the low top for easy slip on, great for on-the-go guys.
The men's boots section has many styles to choose from, but I think these Semuel Boots look like they would go with pretty much anything.  These boots were $79.99 and are now $38.49.  The sole is rubber and the boots are detailed with a rubber shell and large D-rings for lacing.
There is also a nice sale on women's handbags, like this Rohaley peach handbag that was $40 and is now on sale for $20.99.  I do like this colour, although it doesn't go with everything, but at this price, it would be nice for a seasonal purse.  This has a braided handle with optional cross body strap and a gold chain embellishment.
Take a look at all their styles available, there is sure to be something you would like and the prices are awesome.
Shipping: $5 flat rate for standard shipping.
(Expiry: Limited time only)