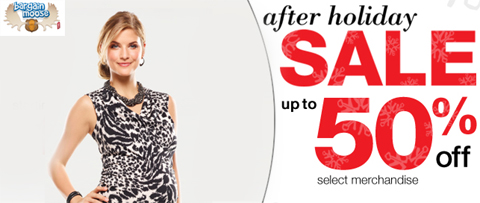 Motherhood Maternity Canada is having an After Holiday Sale with discounts up to 50% off select items.
If you are pregnant or going to be pregnant during our long, cold, Canadian winters, one item worth investing in is a maternity winter jacket. This Quilted Puffer Microfibre Maternity Coatfor $94.99 has enough room to keep that growing belly cozy and warm throughout the winter.
Some other nice deals include this Short-Sleeve Stretch Fabric Maternity Polo Shirtmarked down to $6.99, and this Short Sleeve Belted Maternity Tunicfor $24.99.
The Long Sleeve V-Neck Lace Trim Nursing Nightgown and Robeis a great set for $29.99.  One of the best pre-baby gifts I received was a new pair of pajamas to take to the hospital. When I got home, I spent many, many hours in those pjs!
When I was pregnant, I found Motherhood Maternity's online store had a much better selection of sale items than my local store.
Motherhood Maternity now offers $8.95 shipping on every order.