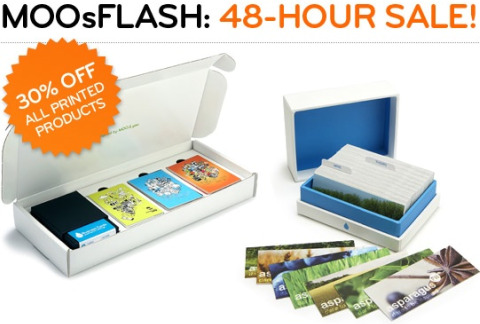 We rarely post about non-Canadian based stores, only a select few that Anna absolutely loves to buy from. Moo.com happens to be one of these said places as it is US based, and we have mentioned them before in the past. They make unique business cards and have more recently expanded to a broader range of products.
Moo.com is having a flash sale, it only lasts for 48 hours! They are offering an amazing 30% off minicards, post cards, greeting cards, and stickers! What about business cards you say? Well, if you follow the link below (and only through the link below) you will get 30% off their business cards too!
Moo has NEVER had a 30% off sale before! This is fantabulous! I got one of their Moo sample packs for free a little while ago and the quality had me swooning! Even my fiance was delighted! Moo is top quality!
Moo does ship from the US so mind the shipping and duty!
Sale ends Thursday 15th July at 11:59pm EDT!