Jurassic World just came out this year and dinosaurs are on your child's wish list. After all, who doesn't want to play with the mightiest creatures that ever roamed this planet? If your child is hooked on dinos, then pick up this Mighty Megasaur Infra-Red Remote-Controlled T-REX Figure from Sears. Originally $39.99, the RC T-REX is now on sale for $$27.99. After coupon code941612495, this remote controlled T-Rex $17.99. Under $20 for a remote control unit of any sort is pretty awesome.
Let's talk dinosaurs! This Mighty Megasaur Infra-Red Remote-Controlled T-REX Figure comes with one dino and a dinosaur-themed remote control. The T-Rex can walk at your command but don't ask him to do anything with his arms - they are so tiny! Impress other dinosaurs in your collection with T-Rex's roar. You tell him when to roar and he does it! You are in command.
This remote control dinosaur also has eyes that light up - just an extra little feature your children will love. The dinosaur is actually a pretty good size: he stands 11" tall and the full-function remote is perfect for children's hands. This dinosaur is designed for ages three and up but your child's development level will determine if this and roar at your command. His eyes also light up for extra T-Rex action. This would make an amazing Christmas gift for a dino-lover.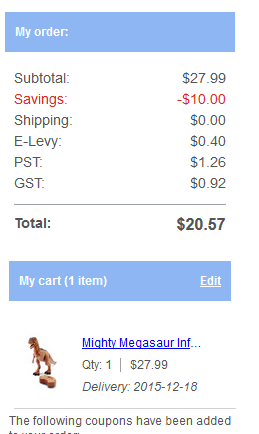 This is such a cool toy but there is a downside: between T-Rex and the remote control, you will need six 'AA' batteries. If your child becomes addicted to this toy, then you will want to make sure that you have rechargeable batteries as the cost of batteries would become prohibitive.
I also wanted to mention another super cool remote control toy by the same company. This Mighty Megasaur IR Dragon also has glowing eyes, walks, and makes growling sounds. Originally $39.99 and on sale for $33.99, you could pick this dragon up for $23.99 when you order separately and use the coupon code above.
As per usual, Sears Canada offers free shipping to all Sears Stores and Sears Outlets across Canada. That is over 1300 locations.
(Expiry: Unknown)