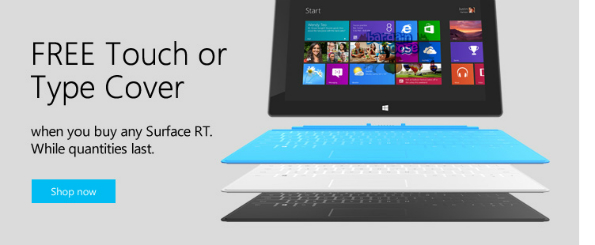 Want to up the functionality of that new Surface RT Tablet you've been wanting? Do it for FREE with a touch or type cover from Microsoft Canada!
I know that the Microsoft Windows phones and tablets haven't caught on and I think it's a shame. The devices are good, the OS is good, I really don't know why they aren't selling better. They have a ton of apps including some familiar things like the Office Suite. The hardware is beautiful, has a kickstand, a USB port and the option to add on these touch or type covers.
I recently sold my Asus Transformer tablet and have been using my wife's tablet from time to time and I'll tell you I definitely miss all the things the Asus Transformer had that my wife's tablet doesn't have. As it turns out, the Surface RT has exactly what I miss. The Asus had a keyboard which worked as a kickstand and a full USB port.
The touch cover is essentially a protective screen cover that, when folded out, presents the user with a printed-on keyboard. The touch cover is pressure sensitive and doesn't have physical moving keys like the type cover does.
The type cover is a miniature keyboard with touch pad for mousing. If you are going to be doing some serious heavy typing like writing a book or updating a website, you really need to get a type cover. The good thing is that either the $119.99 touch cover or the $129.99 type cover can be yours for FREE when you buy your Microsoft Surface RT Tablet!
A 32GB Surface RT is $499 while the 64GB is $599. Shipping is FREE.
(Expiry: 30th June 2013 or while supplies last)