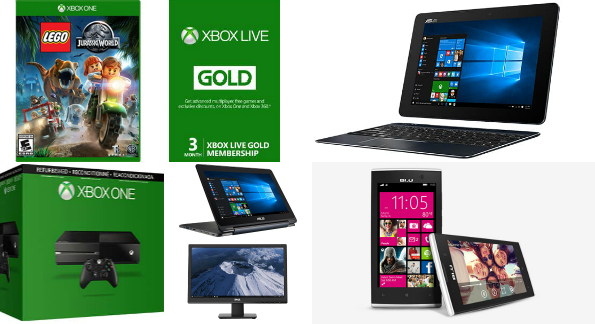 The Microsoft Store is one of my favourite places for Boxing Day deals as they sell signature edition laptops (no junkware) and stock other great electronics. Their Boxing Day sale just started today with amazing discounts - save hundreds of dollars on the tech you want! They also offer free shipping on all orders with no minimum.
Let us start with some basic tech for the family. These Skullcandy Ink'd 2 Earbuds with Inline Mic are on sale from $24.99 down to $9.99. Colours black and pink are still in stock. Give a new set to your kid who is always losing their earbuds or score a new set for yourself.
Is your child demanding a computer? I am sure all the other kids have one - or that is their argument at least. The Acer Aspire One Cloudbook (2GB/16GB) is a good first computer for your kid. Originally $239.99, the laptop is now on sale for $189.99. this This lightweight 11" laptop comes with 100 GB of free OneDrive storage for two years.
If you are looking for the absolute cheapest Xbox One you can get your hands on, then it would be this deal right here. The Refurbished Xbox One is on sale for $319.99 and comes with your choice of a free game: Assassin's Creed Unity, The Crew, or Watch Dogs. You won't find a console for $310 with a free game anywhere else.
You will want more games for your new console, so shop the Xbox One games sale at Microsoft. Get up to $30 off and receive a free $10 promo code with select games.
Speaking of the Xbox One, Microsoft has brought back this popular deal: The Xbox Live Gold 3-Month Membership is on sale from $24.99 down to $14.99.
For those in need of a new cell phone, you cannot do better or much cheaper than this BLU Win JR LTE - Unlocked. Originally $119, the cell phone is now on sale for $65. It is a pretty awesome basic phone. One reviewer said:
This is my wife's first smart phone - she loves it even though she is not at all 'techie'. It is easy to use and the perfect size
I might get this for my Dad.
For those of you who are buying desktops, make sure you get a good monitor as well. The Dell 20 Monitor D2015HM is on sale from $149 down to $99.
(Expiry: unknown)