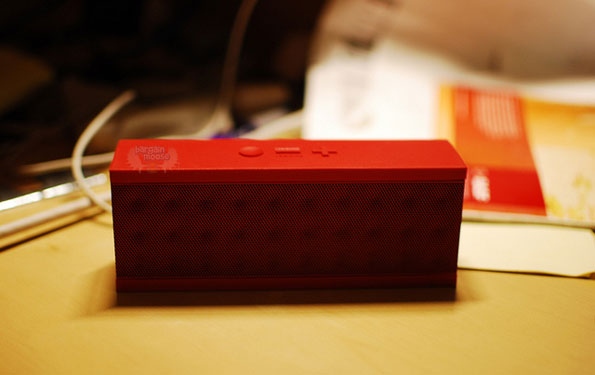 Until tomorrow, you can save $80 on the Jawbone BIG Jambox and get it for just $219.99 instead of $299.99. Shipping is free as well.
Having good-quality speaker is absolutely imperative when entertaining and with summer nearly upon us, if you don't already have some, then this is definitely a pretty awesome deal. Not only is Jawbone known for its quality sound but it's also a worthy price drop as at Amazon, the graphite version of this Jambox is actually currently $435.82 and the red dot is from $270.
It's available in either a red dot colour (pictured above) or graphite hex (more of a black/grey undertone).
I'm actually very tempted to get this speaker myself as having just bought a BBQ last month, I have been eyeing a patio set and would love to listen to music while sipping an iced coffee outside. The battery is actually supposed to last up to 15 hours, so it could be used all day and then recharged every night.
What's also really cool about this speaker is that it has a built-in microphone, which means that you can enjoy hands-free calling and even video chats. According to the description, you can even use it to Skype! However, do keep in mind that either a smart phone, tablet or any other device that can host a call, like Skype, is needed for this feature. In fact, the built-in microphone is marketed as being "360-degree omnidirectional" and with noise cancellation, which means that no matter where you are in the room, the other person should be able to hear you loud and clear.
Speaking of devices, you can even download the Jawbone app on either the AppStore or Google PlayStore for easy access to all of your saved music. Through the app, you can also easily update the Jawbone Jambox.
In terms of reviews, the Jawbone BIG Jambox has a 5/5 star rating with two reviews on the Microsoft Store's website.
(Image Credit: abhisawa)
(Expiry: 18th May 2015)