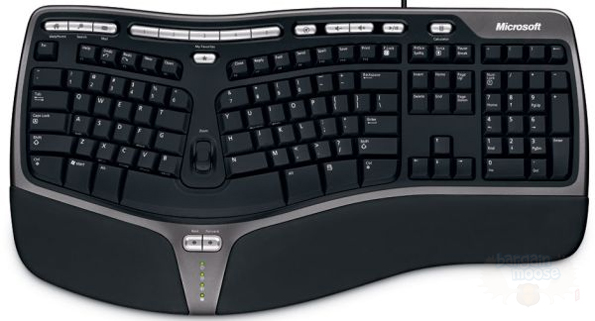 Listen here nerds! Get off the keyboard and go outside! Get some sun and let your carpal tunnel rest! You're going to need surgery if you don't stop typing. Or you can spend a mere $29.99 to get Microsoft's Natural Ergonomic Keyboard 4000 at Amazon.ca and never go outside again!
This is a seriously good deal on a seriously good keyboard. It was $69.95, it's down by $39.96 to $29.99 with free shipping. To price compare, you can get it for $40 plus shipping at Tigerdirect, $40 plus shipping at Newegg.ca, $50 plus shipping at NCIX, $30 plus shipping at Memoryexpress, so the Amazon deal works out best.
From Amazon.ca:
Natural Ergonomic Keyboard 4000 has been expertly crafted to allow you to work in a more natural position. The new Gull Wing design features a 14-degree gable, a natural arc and a curved key bed - bringing the keys closer to your fingers to reduce reach and unnecessary motion, while encouraging a more natural typing position. It also comes equipped with an optional palm lift for a seven-degree reverse slope and a cushioned wrist rest that encourages better arm and wrist alignment.
You can ask most people who know me or read my stuff on my other site and they will tell you I am no Microsoft fan. Even if you go back and look at some of the xBox 360 deals I've posted on this site, you'll see that Microsoft is not my favourite company.
All those issues though are pretty much muted when I'm talking about their hardware peripherals. Microsoft has always made a solid mouse and keyboard. This one is not an exception. If you do a lot of typing, you really should pick up this keyboard. At $30 it is an absolute steal.
(Expiry unknown)