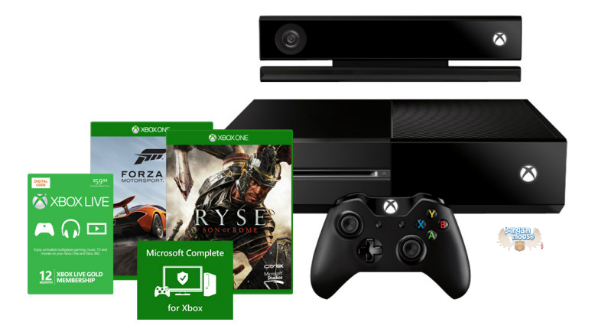 xBox One, Kinect, Controller, xBox Live, Microsoft Complete and two games for less than $700? Yes please!
This is a pure math deal. Normally the xBox One, Controller and Kinect cost $499.99. The games are $59.99 each. xBox Live is $59.99. A three year extended warranty through Microsoft Complete is $69.99. That's $749.95 worth of xBox One goodies. You, dear reader, are getting it all for $699.95 because you came to BargainMoose around Black Friday. Pretty sweet deal just for showing up, eh? You get $50 off just for being here!
For the games, you can pick up two games from Dead Rising 3, Forza Motorsport 5, Ryse: Son of Rome and Zoo Tycoon. Out of those, Dead Rising 3 and Ryse: Son of Rome are definitely the most interesting to me. I do like the 'Tycoon' games, though. I never played Zoo Tycoon, but I used to be totally into Roller Coaster Tycoon. That was an awesome game. Of course, your xBox Live subscription will come in handy to play online, and the extended warranty through Microsoft Complete will help when your xBox One "accidentally" gets broken seconds after you're pwned by some 13 year old kid screaming racial slurs at you over comms.
All your gear will ship for free from Microsoft straight to you or to the gamer in your life as a Christmas Gift! Check the forums for more free shipping deals.
(Expires: Unknown)