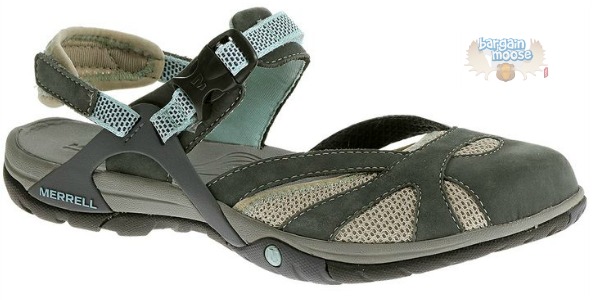 The Merrell Azura Wrap sandals are on clearance now @ Mountain Equipment Co-op. These great quality sandals were $109 but you can pick them up now for only $59. Free shipping is included on all orders of $50 or more, so these shoes will ship free.
I love to keep a good pair of sport sandals in my closet. I find they are perfect for all the summer adventures I plan to take. Sport sandals keep my feet comfortable in a canoe, in the park, on moderate hikes and especially when camping. I own a pair of Merrell hiking boots that I have loved for several years now for when it is colder out or we are hiking a harder trail. Merrell's quality has long been top notch for providing sturdy and quality shoes. While I have not owned a pair of Merrell's sandals, I do not doubt that these are sturdy, well-made sandals from my previous experiences with their brand.
This particular pair of hiking sandals is available in grey. The toes are covered with a breathable mesh. While I generally prefer a more open toe, that mesh would protect your feet from a twig poking your foot. More than once I have had to fish a twig out from under my toes in the front of my sandal while hiking. These sandals are waterproof with an antimicrobial treatment in both the mesh and the foot bed. This particular pair also comes with a special grip on the bottom designed for helping you to get traction when on wet or slippery surfaces. The sandals are available in sizes 6,7,8,9, & 10.
I started digging around for other pricing options on these sandals. I found these sandals on Merrell's website directly for $120 both in grey and in every other colour Merrell offers them. Elsewhere I am only finding these shoes in other colours. A very similar black version is @ Shoeme.ca for $110. I also found a purple and white version @ Sportchek for $119.99. Your best bet is to pick this grey version up at MEC.
There is only one review on these sandals on MEC's website and they seem happy. From price comparing, the reviews on other retailers websites all seem to also fall into the four and a half to five star rating on these shoes. Here is the review from a buyer who purchased these specific sandals from MEC and loves them.
These fit great and are very comfortable. From city streets to light trail use these have proved to be very durable and cute!! I haven't yet used them in the kayak or water yet but from the design of the shoe I can tell it will function just as well. They are nice enough to even wear with summer dresses. A really good multifunction sandal.
Blogger Eva has a pair of Merrell sandals and says she absolutely loves them. They are durable and comfortable and great for long walks.
Free shipping is included at MEC with all orders over $50. These sandals will ship free which sweetens the deal even more. Grab your pair before your size is gone.
(Expiry: Unknown)