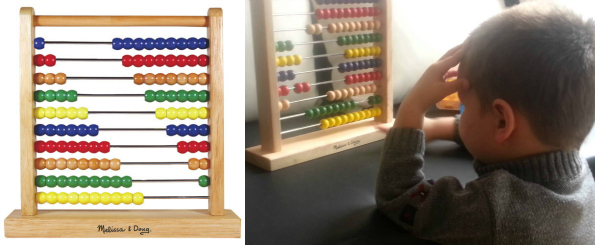 Old-fashioned toys are all the rage these days and you can introduce your child to the wonders of math with this Melissa & Doug Wooden Abacus. Originally $16.79, this wooden abacus is on sale for only $6.84 right now.
An Abacus is a counting tablet with wooden beads that slide back and forth. An abacus introduces your child to the concepts of sorting and counting. Not only that, their fine motor skills and hand-eye coordination will improve with use. A toy like this is just what your child needs to master the concept of counting.
The beads are brightly coloured to encourage play. There are ten rows of beads with 10 beads on each row. The five-colour scheme is repeated twice for a bright yet cohesive toy. This toy is designed for ages three and up but with no removable parts, it should be fine for a younger child at an advanced learning stage.
I price compared this Melissa & Doug Wooden Abacus with other retailers to make sure you are getting the best deal. The same toy is on sale at Best Buy Canada for $11.99 and only four are left in stock. All-Star learning sells this toy for $15.93, and even Melissa & Doug have the toy listed at $14.99 USD on their website. Essentially, you are going to pay a lot more anywhere else for this toy so why not just head over to Amazon Canada and pick up this sweet deal.
I really love this deal because the toy is useful, fun, and quite large as it stands nearly a foot high. Parents are super happy with it in the comments as well - they say it is a great product for the price and their children (and grandchildren) use this toy all the time. It helps with basic skills and really can be used for years on end when your child reaches kindergarten and grade one. You will pay just under $7 for this quality, wooden abacus from Melissa & Doug.
Receive free shipping on orders of $25 or more. If you are a Prime Member, then shipping is free on all orders. This would make a great Christmas gift for your young one.
(Expiry: Unknown)