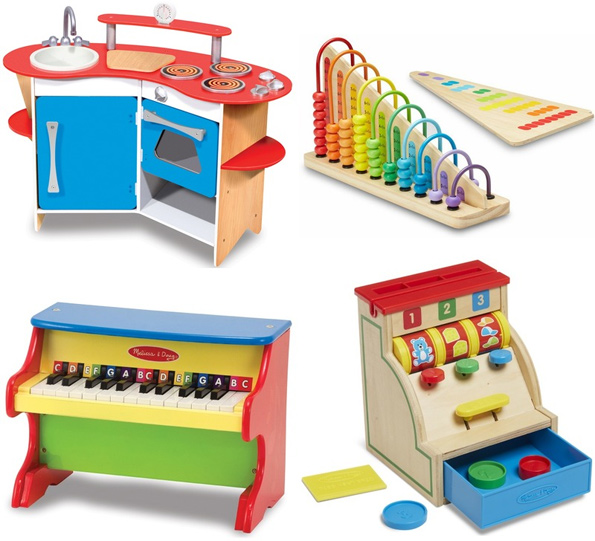 You can never go wrong with shopping at Well.ca. I find they have a large selection of just about anything on your list, and it's usually in stock. I do like browsing their products and end up with an order of laundry soap, vitamins, some sort of snack food, bandaids, a new water bottle for the gym, moisturizing cream.. all on sale of course!
Melissa & Doug caught my eye today. They have a fantastic deal on at the moment: 25% off EVERYTHING. Not just sticker books, scissors, or a pad of paper... but all 222 products are discounted. WOW! My kids have several Melissa & Doug items around our house that have lasted for years. It is especially noted for wooden puzzles and similar types of high-end educational toys.
The Melissa and Doug puzzles and play food are my favourite. Most sets contain eight pieces of wooden food, a cutting board and a wooden knife. Cutting the food makes a satisfying "crunch" from the velcro --and a playful introduction to concepts of "whole," "part," and fractions.
Melissa & Doug have wonderful reviews as well.
I had a friend whose 2-year-old child had a food cutting set, and I was sceptical of whether my 2-year-old daughter would also like it. I picked Melissa and Doug's set because their quality is always excellent, and I am again impressed with the craftsmanship and detail of this set. I am also pleasantly surprised to find that of all the expensive electronic gifts my 2yo got for her birthday, this has turned out to be her favourite toy!!!! It keeps her entertained for quite a while, and is great for parent/child to play together.
I personally like the way their play food incorporates educational learning. For example, place the food items in a row. Ask your child to count the number of food items, and repeat the activity until your child is able to count them independently. Have them place the apple on the cutting board and cut it apart with the wooden knife. Explain that the apple has been cut into two equally sized pieces, or halves. Try it again with another piece of food that could be cut in half (the pepper).
Well.ca offers FREE economy shipping on orders of $29 or more (before taxes) in Canada excluding remote and difficult to serve locations. You can also choose the option of orders under $29 which are subject to a $5.95 economy shipping fee which is pretty low anyways.
Happy shopping. I'm sure whichever item catches your eye, it'll be a big, big hit with both the older & younger crowd!