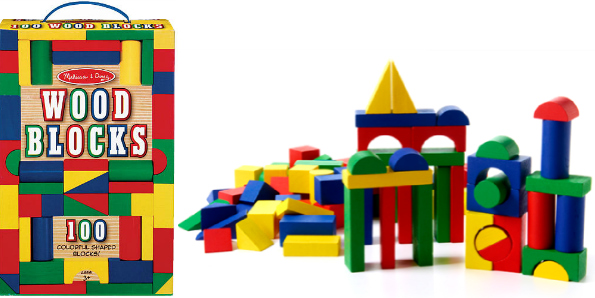 Wooden blocks are the basics of any child's toy chest. Before LEGO ever enters their little minds, they are building and chucking wooden blocks around the house. Pick up this Melissa & Doug 100 Wood Building Blocks Set on sale from $24.99 down to $14.99. This is a great price and it is lower than anywhere else I could find these blocks. Receive free shipping with a Prime membership or free shipping on orders of $25 or more. Simply buy two block sets for free shipping.
Let us talk blocks. These are the basic building blocks of creativity for young children. The solid wood blocks balance on top of each other for creating structures like towers and towns. These are not your basic building blocks; rather they come in four colours and nine shapes to help your child build a variety of structures. Triangles can be used as roof tops, half circles can be the curb along a sidewalk. There is no end to what you can build as long as your imagination is on board.
This wooden block set also has educational value. It introduces concepts such as gravity: you need a wider base than top or things will fall down. Your child can learn basic colours: blue, green, yellow, and red. It also introduces the concept of matching. You can pick out a triangle and have your child find a matching triangle in the same colour. You can also teach shapes like half circles, triangles, blocks, cylinders and more.
This is such a classic toy and should be a basic in any child's toy chest. I loved building blocks as a kid and I turned them into houses for my Barbie dolls, dungeons, towers, and more. This Melissa & Doug 100 Wood Building Blocks Set is 40% of at Amazon, which is cheaper than anywhere else I could find them. Chapters had them for $24.95 but they are now out of stock. Well.ca is close at $16 but they are an extra dollar more and have a higher shipping minimum. You are best to purchase from Amazon.
There are some other really good Melissa & Doug toys on sale. This Melissa & Doug Latches Boardwas $29.99 and is now $16.99. I also recommend this Melissa & Doug Shape Sorting Cube that was $17.99 and is now $10.99. Add on either with the building blocks for free shipping.
(Expiry: Unknown)