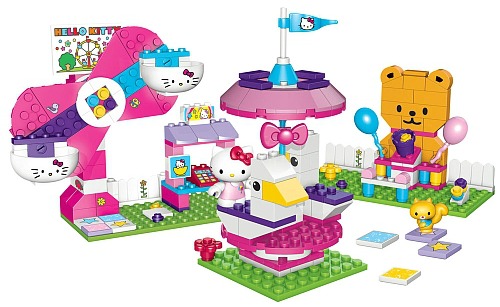 I have two super hot deals for you on Mega Bloks sets. First, the Mega Bloks Inc Hello Kitty Fun at The Fair is on sale from $21.99 down to $10. Secondly, the Mega Bloks Thomas and Friends Blue Mountain Coal Mine is on sale from $22.99 down to just $10 as well!

These are awesome building block sets for kids featuring two very popular themes. The Hello Kitty set includes 223 pieces including two collectible figurines: Hello Kitty and her friend Rorry. There is a buildable fair with a duck merry-go-round, Hello Kitty Ferris wheel, Teddy Bear ball toss carnival game, and a ticket booth. You will also receive a sticker sheet to further decorate the set.
I could only find this set elsewhere in Canada at Amazon for an inflated $93, but given the price - only $10 - for a 223 piece set, I figured this was pretty hot. It is also in the top five best-selling toys right now! I also wanted to mention this Mega Bloks Hello Kitty Pirate Cove Building Kitthat was $16.99 and is now $10. It would go so well with the other Hello Kitty set.

For kids who are fans of Thomas the Train, this Mega Bloks Thomas and Friends Blue Mountain Coal Mine for just $10 should be a big hi. If you are going to get both sets featured here or even all three, then it is best done at Toys R Us Canada, you will even get free shipping when you spend over $49. This set includes a buildable specially decorated Thomas engine with wagon as well as a constructible Blue Mountain Coal Mine with coal bin that can dump coal into Thomas's wagon. With this set there is also a sticker sheet to add further details to the blocks. 
Receive free shipping from Toys R Us Canada when you spend $49 or more, and with deal like this it will be easy to spend that amount of money. These items would make fabulous Christmas gifts, don't you think?
(Expiry: Unknown)