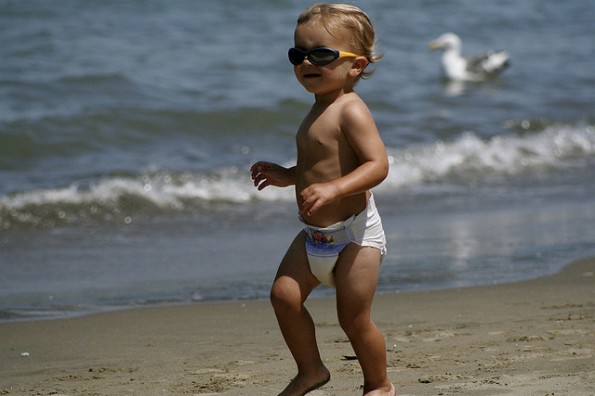 Want to keep your baby out of the sun without adding chemical sunscreens to his/her body? Try a sun suit, like this Level Six Aurora/Apollo infant sun suit from Mountain Equipment Co-op. It is regularly $35, now only $24.
I am all about the sun suits for my children. I figure the less skin that shows, the better off we are. I hate sunscreen because I'm afraid of the harmful chemicals in there, and I think a sun suit is a more natural way of protecting them from the sun. I don't have to worry about it washing off, not getting applied right or getting in their eyes.
This is a great price for a sun suit as I've paid up to $50 for high-quality ones in the past. It looks like the red and white is the only one on clearance, with the pink and the blue being the regular $35. Also, size 2 is sold out, with only sizes 0 and 1 left. These suits are stretchy though, and I've been known to use the same one for a few years and just let them get a little short in the legs and arms.
The suit has a 50+ UPF rating and is chlorine and saltwater resistant, so it is great for the pool, the beach or even the backyard sprinkler. I love that the zipper is designed as off-centre so the bellies don't get chafed when babies do what they do. The zipper also makes it easy to do diaper changes, which you know you'll have to do at this age! You could go freestyle at the beach if you want to take that chance.
You'll need to spend another $26 to get free shipping and reach the $50 threshold.
(Photo credit: l'interdit)
(Expiry: Unknown)