McDonalds Gift Certificates for Kids for $1 (Loads of free coupons)
If you order a McDonald's Kids Halloween Gift Certificate for $1, in store @ your local McDonald's restaurant, here's what you get:
Coupons for 3x small fries
Coupons for 3x free ice creams
Coupons for 2x free soft drinks
The coupons will be redeemable between November 1st and 30th, 2008, by children under 12 years old. While a deal is a deal, I still recommend you keep in mind Super Size Me, before you head down Ronald McDonald street!
Not bad for a dollar! Although… I get a bit funny when I think of such advertising practices, which are clearly targeting kiddies. After a quick search on google, I was surprised to find out on businessethics.ca that MacDonalds has its own blog on CSR – that's Corporate Social Responsibility, to us plebs.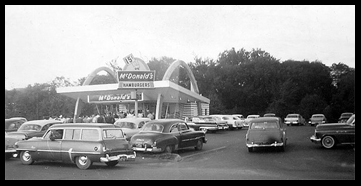 I found this excellent retro photo on "Roaming Vegas'" flickr page.
- Anna