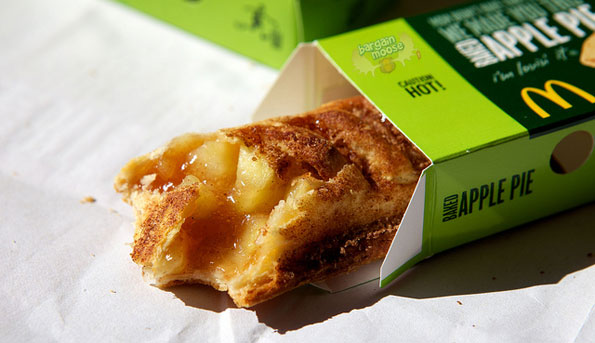 Not looking forward to Monday? No worries, Bargainmoose has you covered as we have uncovered a sweet little deal going on at Mcdonald's right now. For a limited time, you can get any small hot McCafe specialty coffee with either a baked pie or two cookies for just $2.99.
The only restrictions to this promotion is that the coffee must be of the small, hot and specialized variety and the baked good(s) must either be in the form of a pie or two cookies. Other than that, you actually have multiple options at your disposable but since Christmas is a little over a month away, let's start with the festive options:
Creme Brulee latte
Peppermint mocha
Butter tart pie
Ginger cookies
Although Tim Hortons is my first choice for getting caffeinated on the go, if there is nothing else around, I do love to grab myself a peppermint latte from McDonald's. It combines my two favourite things in the world: coffee mixed with chocolate and is particularly great on a cold fall day.
As for the baked goods, I have only ever tried the apple pie and in fact, it's the only food I'll eat at McDonald's but that butter tart pie sounds absolutely scrumptious and heartwarming as well. Do keep in mind that the butter tart pie also has raisins inside, so if you don't like those, then this tart may not be the perfect baked good for you!
You can also choose other McCafe specialty drinks like a: mocha, americano, latte, cappuccino, espresso and deluxe hot chocolate. Technically, a premium roast brewed coffee and a premium tea also fall under this category but you will have to double check with your local McDonald's to see if this promotion applies to these as well.
Price-wise, you can expect to be saving between $0.24 and $0.29 during this promotion. A small espresso-based hot drink is usually $2.39, while 1 small cookie is $0.42 and a pie is $0.89. This means that without this promotion, you would have paid $3.23 for a small specialty drink and two cookies and $3.28 for a small specialty drink and a pie. This may not seem like much but for those of you who pass through the McDonald's drive-thru every morning and sometimes even more than once per day every day, then this promotion is definitely worth taking advantage of!
(Image Credit: Brandon Shigeta)
(Expiry: Unknown)