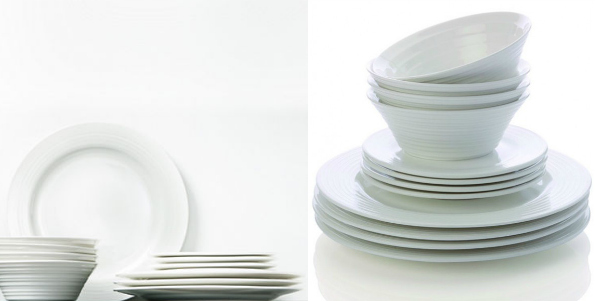 Today only, Hudson's Bay Canada has a fantastic deal on a brand new set of porcelain dishes. The Maxwell & Williams Cirque 12-piece Set was $144.95 and is now on sale for $39.99. While it does not qualify for free shipping, shipping will only costs $5.95 so I would jump on this deal as soon as possible.
This twelve-piece set includes four side plates, four bowls, and four dinner plates. You simply supply the silverware and mugs. You may wonder why a 12-piece dish set would cost so much originally: this set is made of porcelain. While porcelain sounds fragile, these dishes can actually hold up to quite a bit of abuse. They are dishwasher safe, freezer safe, and microwave safe. It also says the set is 'conventional' safe, which I am guessing is convection oven safe?
I really like this set because it gives you the bare essentials: everything you need and nothing you don't. So often dish sets come with mugs or additional small plates like tea cup plates along with tea cups. The majority of the popular doesn't care about having plates under their tea cups or even having tea cups. They want dinner plates. They want bowls. They want smaller desert/appetizer plates. That is the sum of what any basic household wants in a dish set and this set has it all.
I actually have a history with this set. It was my second choice for a wedding dish set - the blue version - and I have regretted going with Mikasa ever since. Don't get me wrong, I do like my Love Story Mikasa set, but this set has the deep bowls (mine has shallow) and it has the bare essentials instead of the two extra useless plates I got with my set.
The Maxwell & Williams Cirque set is truly a gem. I love the ribbed porcelain pattern. This set is on sale in white and it appears that the blue set is no longer available. What a shame - one of those 'ones that got away' sort if deals. Pick this beautiful white set up while you have the chance.
Other retailers have this set around $129.99 so I can assure you that the original price is on par for this set.
(Expiry: 21st December 2015)