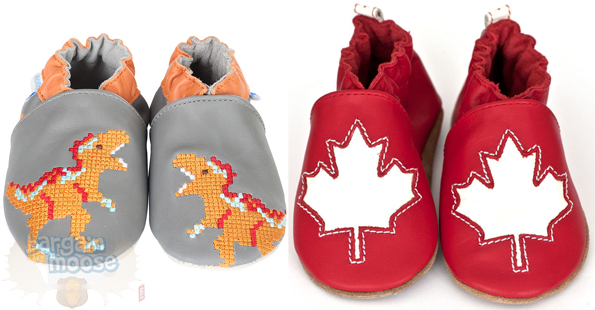 Good news, shoe lovers! The Robeez summer sale has now started, and they're stating that they are offering up to 50% discount on their super-cute range of kids' shoes and booties. However, I am seeing some pairs of shoes at a higher discount – even up to 57% off. On top of this, there's a way to score yourself a free coupon code for an extra 10% discount too – meaning you can save up to 61% off some of these popular kids' shoes!
When you first browse on to the Robeez Canada site, you will get a popup offering you a free 10% coupon if you sign up to email updates. Click around a bit and you should see it – if it's not popping up, maybe try another browser or clear your cookies. Even if you are already subscribed to Robeez, go to 10minutemail, grab a free email address and pop it in the box on Robeez… or just put in random characters, as it instantly shows you a free 10% coupon code. The coupon code even works on sale items!
The prices of sale items start at $8.99 or $8.09 after coupon (for packs of socks) and go upwards from that. For the actual shoes, the minimum price you're looking at is $16.99 (or $15.29) for the likes of these Robeez Washington Soft Soles – they're 50% off.
However, there are quite a lot of shoes marked down from $46 to only $19.99, and they come down to only $17.99 when you add your 10% coupon. A few examples of those:
As you can see, sizing is not amazing in these – if you see a pair in the size you want, grab them now.
What About Shipping?
Canada Post is a standard fee of $6.95 if your order happens to be under $50. It doesn't really make a lot of sense if you are only ordering one pair of shoes. It is definitely worth buying a few things and making sure your order is $50 or more on Myrobeez.ca.
Robeez Shoes make the most excellent gifts for new babies and toddlers – consider grabbing a few in advance, if you know of someone with a baby on the way!
(Expires: Unknown)