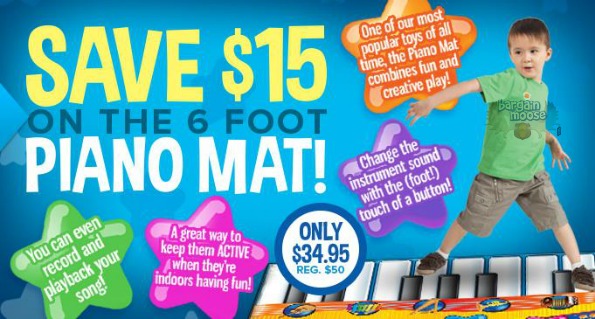 I am really excited about this deal because I have actually been keeping my eye on this product and waiting for it to go on sale.  They have their giant floor keyboard on sale right now saving you $15.
I am not embarrassed to say that I have wanted one of these for myself since I saw Tom Hanks playing on one in the movie Big.  Now that I have kids, it seems a little more reasonable for me to own one!  This giant floor keyboard was $49.95 and is now just $34.95.  I have searched for a good quality floor mat keyboard and the only real place that I have found it is at Mastermind Toys.
I know of someone that has this exact one from Mastermind Toys so I have had a chance to try it out and I will say it is so much fun.  It is 6 feet long in size but can be conveniently rolled up for easy storage.  It not only is a cool keyboard, but it has functions on it to turn it into 8 different musical instruments and it has 4 play modes.  You can also record your own music with it.  I can't wait to grab one of these and give it to my kids for Christmas this year.
It requires just 4 AA batteries which are not included.  Mastermind Toys offers free shipping for orders $75 or more.
(Expiry: Limited time offer)