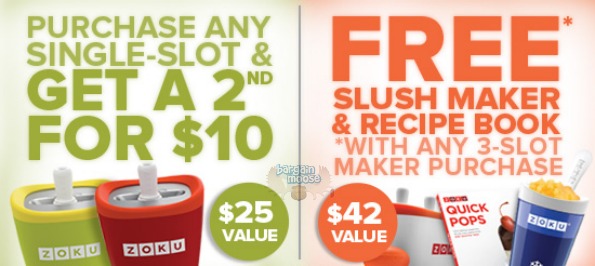 Mastermind Toys Canada has two great deals to take advantage of in the summer that that will cool you down.  The first one is a free slush maker and recipe book with the purchase of any three slot maker.  The second deal is that when you buy any single slot popsicle mold, you will get a second one for just $10.
Popsicles are huge in our house in the summer and are pretty much a staple.  I like the idea of making real fruit ones myself so I know what is in them and so that there is no extra sugar.  You can do that with these popsicle makers.
With the first deal, the free slush maker and recipe book will be added to your cart once you purchase any of the three slot makers.  Each of them are $74.99 and you can choose from red, purple, blue or green. The value of this deal is $42 worth of free items with your purchase.
If you would like to check out the second deal, it is a little bit different because instead of a free gift, you will save money on your items.  When you purchase and single slot popsicle maker, you will get a second one for just $10  The regular price of these makers is $34.99 so you will be saving $25 with this deal.
The brand name for both deals is ZOKU which is increasingly popular now with these types of products. They have a ton of products and accessories offered at Mastermind Toys to check out.
You will get free shipping on your purchases when you spend $60 or more. That means, if you are getting the first deal, the shipping will be free.  If you are getting the second deal, you will need to spend $15 more dollars to get the free shipping as well.
(Expiry: Unknown)