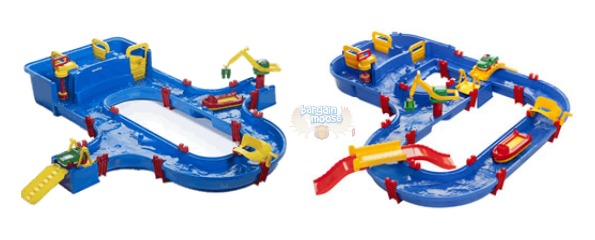 I found an awesome deal over at Mastermind Toys Canada that will make me a hero to my boys when I get it for them. For a limited time only, you will receive a free inflatable play surface with the purchase of any Aquaplay Canal Set.
The inflatable table that you will get for free with any of the Aquaplay canal sets is valued at $30, so this is a great freebie to get. I love that it is waterproof and you can just deflate it when you want to put it away. It will fit any of the Aquaplay sets, big or small, and you can use it for so many other things.
It has been so hot lately that this is the perfect summer thing for my kids to play with in the backyard.
There is a few things you will want to know about these Aquaplay canal sets because they are not your ordinary sets. The first cool thing about them is that they completely transform into a carrying case by folding in half for easy travel and clean up.  This makes it simple to bring on a road trip, to a friends house, to the beach, or even to store over the winter.
Another thing you will want to know about is that no matter which one you choose, it will come with everything you need.  They include cranes with buckets, locks, water wheels, water gates, bridges, ramps, water pumps, cars, boats, and more.  A list of accessories like this sounds like a great way to encourage your child's creativity and building skills.
Lastly, the free table that you will get with this deal is like no other.  It is an inflatable table that you can inflate whenever you want to use it.  Most tables are bulky and you could never take them with you on a road trip to the beach because they are just too big to take.  This one, you can deflate and pack it up to take with you anywhere.  Being able to deflate it is also a bonus because it makes winter storage a breeze.
As a bonus, you will get free shipping with your order because all of the canal sets are over the $60 minimum required to get it.
(Expiry: Unknown)