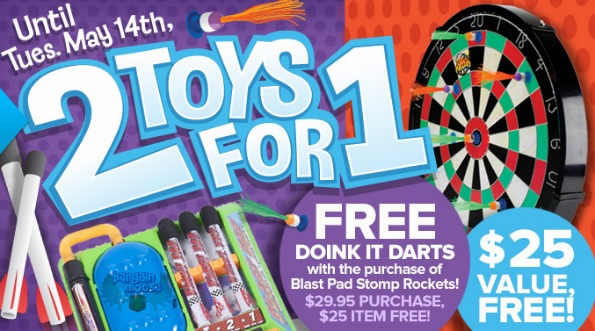 I always get excited when I get two items for the price of one so this deal at Mastermind Toys really caught my eye.   Until Tuesday May 14th 2013, receive the Doink it Darts Poppers Board free with the purchase of Blast Pad Stomp Rockets.
To get this deal, all you have to do is add the Blast Pad Stomp Rocketsthat are priced at $29.95 to your cart. Once you do this, the Doink it Darts Poppers Board will automatically appear in your cart for free.  It is as simple as that.  The cost of the dartboard is normally $24.95 so this is a great free gift to get.
The Dart board is a regulation size dart board, that measures approximately 18" in diameter and features a cord for hanging. It comes with 6 specially designed Doink-it Poppers darts that use 100% silicone suction heads.  What a cool freebie!
The Blast pad rocket is also pretty cool.  All you have to do is load and stomp to launch missiles into the sky. This system includes the Blast Pad Launch System and 3 Ultra-Lite Missiles to have hours of fun with.
I have 2 boys so I know both of these toys would be a hit with them, especially the rocket system.  I think they would love playing with this both inside and outdoors this summer.
As for the cost of shipping, Mastermind Toys offers free shipping for orders of $60 or more.
(Expiry: 14th May 2013)