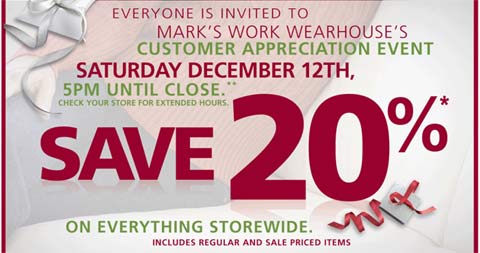 On Saturday the 12th December 2009 only, Mark's Work Wearhouse is hosting a friends and family event, in which they are offering a 20% discount off EVERYTHING in their store. The event is happening from 5pm until closing on the Saturday, so it's a late night shopping fest!
It looks like it is a store-wide event, and I don't think you need to print out a coupon or anything. Your discount should be automatic in the store.
This kind of event is excellent if you want to pick up some bargain work clothing. I've got quite a few bargains there in the past, work boots for the OH, good quality rain jackets, etc.
P.S. Check for the printable Marks Work Wearhouse coupons here - some cashiers accept them, even on the 20% event days!