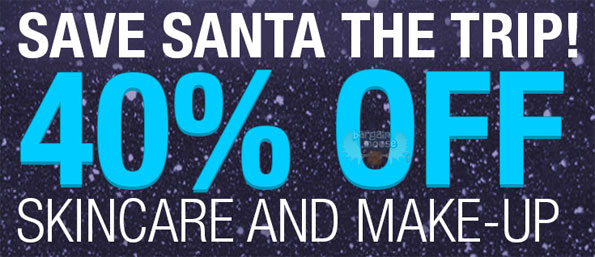 Ready, set, save 40% off at Marcelle! But only when you the coupon code below and only during the next couple of days.
Click here to shop @ Marcelle.com now
Coupon Code: SANTA
Discount: 40% off
Expiry: 14th December 2014
I have been using the 3-in-1 micellar solution ever since I scored it at a discount a couple of months ago but while it gets the job done, I'm definitely tempted to give the gentle make-up remover for sensitive eyes a try instead. It's new and already has 2 positive reviews, namely this one:
Same formula as Lancome's bi-facil but for a fraction of their price! does wonders in removing the toughest of waterproof eye makeup without having to pull or tug at the delicate eye area. this is my HOLY GRAIL eye makeup remover!!!
Very inspiring indeed, especially when we consider the fact that the Lancome Bi-Facil product in question retails for as much as $36. Marcelle's gentle make-up remover, however, would come down to just $8.97 (reg. $14.95) with the Marcelle coupon code. Even better is that it's 100% hypo-allergenic, is perfume free and has no paraben, gluten, alcohol or soap. It would also give you 70 points, which brings me to my next point...
Marcelle now offers points for every purchase. When I ordered a couple of months ago, this feature definitely wasn't live yet but it's one I'm certainly excited by as I love Marcelle products. Marcelle's points system works in any standard way, in that you get points for every purchase that you make and you can then redeem these points to save on future orders. What's interesting is that points may also be earned by performing certain actions on Marcelle's site like writing reviews, subscribing to their newsletter, sending invitations, having people you invited make purchases etc.
Shipping is free on orders over $50 and it's quite fast as well. When I ordered a couple of months ago, my package arrived within two days but given that it's the holiday season right now, don't be surprised if it takes slightly longer.
If you want to try another product, then it also looks like the ideal skin perferctor has recently been added to Marcelle's line-up of products. Originally priced at $24.95, it comes down to just $14.97 and basically needs to be applied first thing before any other make-up or skin care routine. It also has 4/5 stars with 7 reviews!