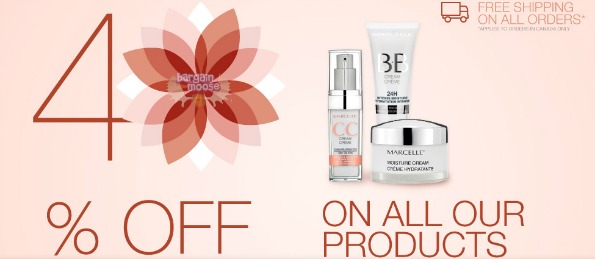 Get 40% off everything you can at Marcelle, and free shipping right now just in time for Mother's Day.
Get your makeup and get it shipped too! My mom is a big makeup person. It is rare for anyone outside of close family to see her without her makeup. She loves wearing it and buying it and I'm sure she'd love it as a gift. While this sale is for Mother's Day, I saw some really tiny print that says that it may not ship in time for Mother's Day and being that today is already Thursday, I definitely wouldn't count on it. That doesn't mean you can't shop.
When you try new products, you always take a bit of a risk that you might not like it. I find it so helpful when the products are best sellers, or even better, award winners, because it tells me that a lot of other people liked this product. In this case, majority rules. That doesn't mean you'll love it because others did, but the chances are a lot better. This New-Age 8 in 1 power serum won a title at this year's Elle Beauty Grand Prix. I think that says a lot. With this sale you can save over $13 on it too and pay only $20.37 instead of $33.95.
I think a very inexpensive and useful gift for mom could be a new lip gloss. With lots of colours, this one will only set you back $6.57, was $10.95.
For more free shipping, no minimum deals, take a look at our Free Shipping page.
(Expiry: 11th May 2014)