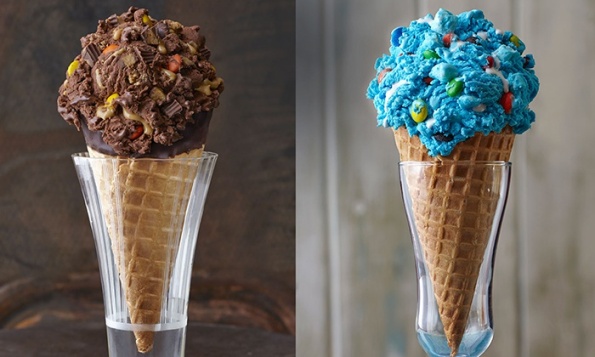 Marble Slab has a delicious offer coming up this Black Friday, and I am going to be a crazy person that eats ice cream in the winter. From November 27th through November 29th, you can use the Marble Slab Creamery Black Friday Coupon to buy one ice cream cone and get the second for totally free.
Just make sure you are signed up to the emails from the above link and they will be releasing the coupon on Friday morning.
What's better than a delicious ice cream cone? A free, delicious ice cream cone! Marble Slab Creamery has one fabulous offer available for Black Friday Canada 2015 - and I can't wait to slip out of the house and snag my ice cream treat. I love BOGO anything. If I can buy one and get the second one free, I totally will... and that applies even more so when it comes to food.
Normally Marble Slab Creamery has their BOGO offers for one day only, and it is usually only valid between 12pm and 2pm so it will be nice to not have a time limit on this offer. Plus the last time they offered this promo was back in July for "Happy Hour". While Marble Slab says that the coupon will be available through this link as of Friday morning, I would probably sign up for email updates to ensure that you do in fact receive this coupon. I find that special offers like this only come through email for some reason.
There are also other deals of the day that you can enjoy at Marble Slab Creamery. These offers include:
Monday - $4 Ice Cream Sandwich
Tuesday - 2 Regular Size Cones for $10
Wednesday - 2 Pre-Packed Half Litres of Ice Cream for $12
Thursday - 2 Pre-Packed Litres of Ice Cream for $15
Friday: 6 Pack of Ice Cream Sandwiches $22
Saturday: Belgian Waffle Delight or Fudge Brownie Delight for $5
Sunday: Banana Split for $6
There are also print coupons available from the link above that expire on November 30th. There are quite a few offers available, and all of the Marble Slab Creamery items are just delicious - in my opinion. I can't be the only one crazy enough to eat ice cream in these freezing temperatures?
Moosers, do you enjoy ice cream in the Winter?
(Expiry: 29th November 2015)