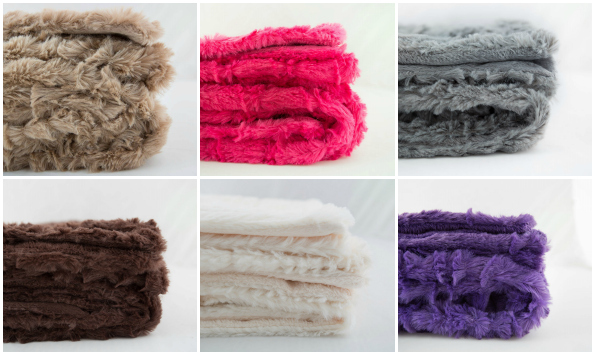 Maple Harbour currently has a sweet BOGO free offer on and I thought it was a perfect complement to these throws. Each throw looks super comfortable and would make a great gift for young and old. Originally $25.99, you can now buy one to get one free thus bringing each throw to only $12.49 (when you buy two). With free shipping thrown on the mix, you just won't find this kind of deal anywhere else.
There is a throw in almost any colour you want. TheRosetta Throw comes in more subdued colours including ivory, chocolate, purple, taupe, and silver. This throw is fluffy on one side made of microplush. I think the ivory may be my favourite because it looks so romantic. It would make an amazing Christmas gift - just tie up with a red ribbon and stick a single rose on top (and maybe a box of chocolates). 
The Rose Throw provides a nice thick and comfortable plush blanket in a different 'pattern'. It looks a lot like the Rosetta throw so you might have difficulty telling them apart. There are two colours available.

The Harper Throw most certainly has a different geometric pattern in the plush - it is quite distinct. In many ways it seems less messy than the other throws as the pattern is far more linear. This throw comes in your choice of ivory, silver, or purple.
For those who want to have a party in their blanket - namely kids - this Dot Throwis just the thing. The patterning in the plush is large dots and this throw comes in vibrant red, pink, green, orange, and turquoise. I mentioned this throw once before when you could score it for $17.09 (just one). This deal is better as each throw comes down to just $12.49 when you buy two for $25.99.
Each throw measures 50" x 60" so they are perfect for tossing on beds, couches, chairs, and more. Throws make great gifts for anyone, thus they are one of those 'on hand gifts' that you want to have stowed away for that one person you forgot to buy a gift for. They also work really well at Christmas gift exchanges.
(Expiry: Unknown)