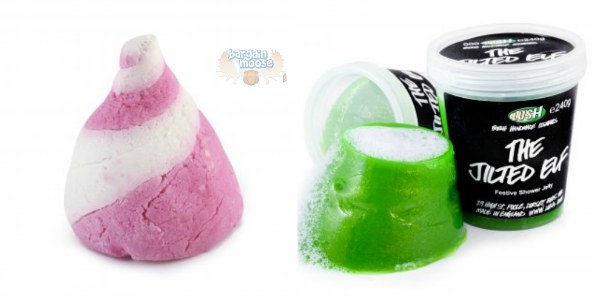 Lush still has some wonderful items you can get that are buy one get one free! Load up on Jilted Elf Jelly or try out a Candy Mountain in your bath and get an additional one free.
Once you are going through checkout the extra free items (one per item in your cart) will be added on to your order. If you go for the Jilted Elf Jelly I believe you can have a Candy Mountain for your 'get one free' as it is worth less than the jelly.
Reviews:
Very easy to use, bought 3 bars because they were on sale and saw the good reviews. Great long lasting bubbles, pretty pink water and nice light scent. I only need to use about 1/5 of the bar and my tub is over flowing with bubbles. The only reason I took a star off is because I was looking forward to a little bit of mint in the scent but the vanilla and sweetness is nice too
I LOVE this shower jelly. It beats all of the other year-round ones for me. It's cute, it's glittery, and it's green. The scent is very relaxing. The scent lingers lightly on your skin and makes you smell/feel fresh. Will definitely be repurchasing.

I just bought 6 Candy Mountain bubble bars, and thus got 6 free (yay!) which = 12 in total! I only paid $6 in shipping, a really a great deal!
Expiry: Unknown