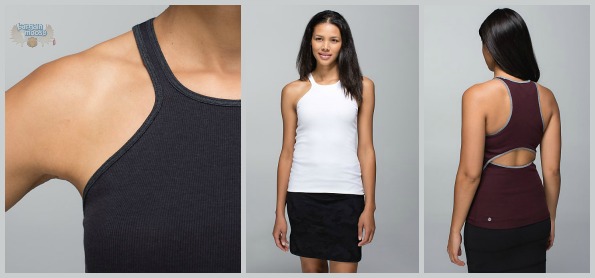 Lululemon Canada has 50% off their Front & Centre Tank. All three colours with full sizes are in stock as of this moment. Originally $49, the athletic top is now on sale for $24 with free shipping.
This tank is made of both Lycra and Pima cotton. Pima cotton ensures a soft and luxurious feel while the Lycra ensures that your fabric retains its shape instead of going saggy. A pure Pima cotton top does not have the ability to retain shape, which is why Lycra is necessary. I own some tank tops in Pima cotton so I can vouch for the softness of the fabric - it is so deliciously comfortable I could hug myself while wearing those tops.
The Front & Centre Tank is ribbed with an opening on the back for ventilation and appeal. The slim fit makes this top perfect for layering under other tops. Shoulder straps are placed farther inward towards your core so there is less of a chance that they will slip off your shoulders while you are active. They join up into a racer back style at the back.
The Lululemon tank comes in black, white, or bordeaux drama. The last colour is sort of a plum purple shade with contrast trim. Out of all the colours, I think this is the best as the trim outlines the back cut out design. Sizes are only available in four, six, eight, and 10. Size two and 12 are surprisingly absent.
The last reviewer on Lululemon's website said:
The cut of this top is very flattering. I have a bra that is not lulu but that has an identical shape you could only see a very thin line of my pink bra which underneath the black top looked great. I wish they made it BLUE NAVY!! MORE COLORS PLEASE.
As this tank top is now on final sale, I doubt they will be adding any more colours to the line. The Front & Centre Tank is 50% off, thus it is final sale. Exchanges or store credit will only be extended if the top is found faulty due to manufacturer's defect.
I suggest reading more of the comments to get a good idea on what the best size for your frame is. I find that not all Lululemon products run the same size so the comments are very useful.
(Expiry: unknown)