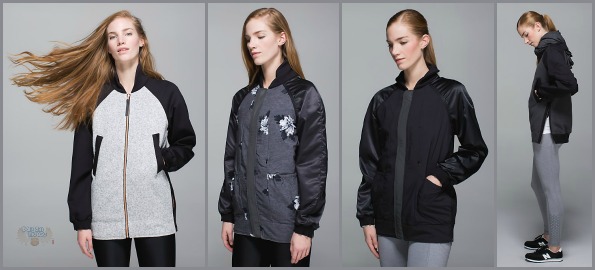 Lululemon has some nice deals in their 'we made too much' section. Usually there are discounts anywhere from 25% off to 50% off - with the higher discounts being rarer. This Both Ways Bomber, a reversible jacket, was $198 and is now on sale for $99 with free shipping.
'Both ways' refers to the jacket's reversibility, which gives you two different looks from the same jacket. The seams and 'inside' are sewn in such a way that the jacket looks completely natural whether 'regular' or inside out. In fact, over time you may forget which way was originally the 'right way'.
There are two colour choices. One is a heathered white with black on one side with the atomic flower silver spoon and black when you reverse the jacket. I am not too sure about that floral pattern but it is a nice change from simple black and white or grey. It spices up your wardrobe a bit. The next colour choice - and my preference - is the heathered black and black combination. One way, the jacket is almost all black except for the zipper placket, and the other way you have the heathered black (it looks like a hard grey) with the back sleeves and accents.
Both colour options are available in sizes four, six, eight, and ten. Unlike most bombers that hit at the waist, this one is designed to hit low on the hip. It keeps your lower back and love handles toasty warm. A great 'to and from' jacket, this will do the work of two jackets yet take up the space of just one.
Most reviews are quite happy with this jacket, especcialy at the sale price. One reviewer said:
I took the chance on WMTM. Glad I did. I love both the floral and heathered white side of the jacket and only have one minor complaint but not a big deal. The bunching up on the bottom of the back side due to the elasticized fabric kind of looks a bit strange, but I guess I see the point of it though. I purchased my usual 10 and I thought it was TTS. I am 5' 9 1/2" and 175 lb and it fit perfect.
The only 'common' complaint appears to be around the sleeves. Most people find them just a tad on the short side, especially for taller women. However, taller women loved the length of this sweater jacket.
(Expiry: Unknown)