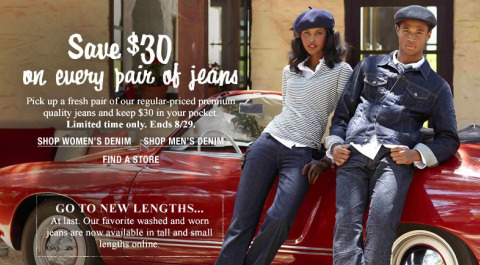 Lucky Brand is offering $30 off their regular priced jeans, both online and in-store. No coupon is needed, the $30 will be automatically taken off at checkout.
Checked out their regular priced jeans, which range from $79.00 to $149.00 for women and $79.50 to $129.00 for men. $30 off is a rather decent savings. However, I believe if you order online it will be coming in from the US so be careful of duty charges, etc. Might be best to go in-store.
If you want some entertainment, you can Shop By Fit. Not only does it tell you useful information about the fit of the jean, but after you click on a pair of jeans there is a 'see them in action' button.. which is someone walking around it them. Tis funny.
Discount ends August 29, 2010.