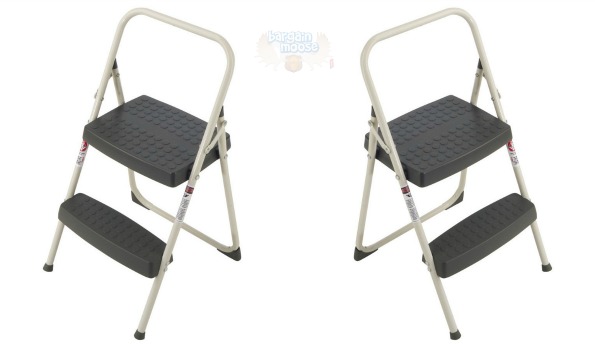 Lowe's Canada has a fantastic deal on this household and shop essential: the Werner 2-Step Steel Step Stool. Originally $23.99, the step stool is now on sale for $15.99 with free parcel shipping.
This two-step steel step stool is a basic household essential that every house needs if you do not want to kill yourself. I measure all of 5'3 so reaching the top of my upper cupboards is just not possible. Thus, I keep a two-step stool, just like this one, near the kitchen for fetching food and dishes off the upper shelves. When I was a little younger and spryer, I would hop up on the counters myself to pull things down. However, I do not wish to set a poor example for the cats now. ;)
I price compared with similar step stools from other Canadian companies. I did find this exact stool from a marketplace seller at Amazon Canada but he wanted $27.69 for the stool and then over double that price for shipping. Walmart's own no name brand of a two-step steel stool costs $19.97, so Lowe's sale even beats Walmart's price on a lower end product. The cheapest option I could find at Home Depot was the EasyReach by Gorilla Ladders for $18.45, but it is sold in stores only so home delivery is not an option. Their more expensive ladder was only sold in stores as well.
The Werner step stool features a large upper platform for a secure and comfortable standing area from which to work. The slip-resistant steps help you keep your balance while you reach for whatever you need. The steel ladder is foldable, making it easy to stow between shelves, hang on the wall, or slid in behind a door. I currently have mine in between a bookshelf and an end table in the dining room. It makes sense if you see it.
The ladder can hold up to 200lbs and is one of those extremely useful items that should just be in your home or garage. At only $16 with free shipping, it is an easy purchase and certainly will not hurt the bank account. They also last an absolute lifetime. Unless you drop something very heavy on one of the steps and break them, this ladder will probably outlive you!
While the deal is on nearly until the end of November, they could sell out. Please let us know if they do!
(Expiry: 26th November 2014)