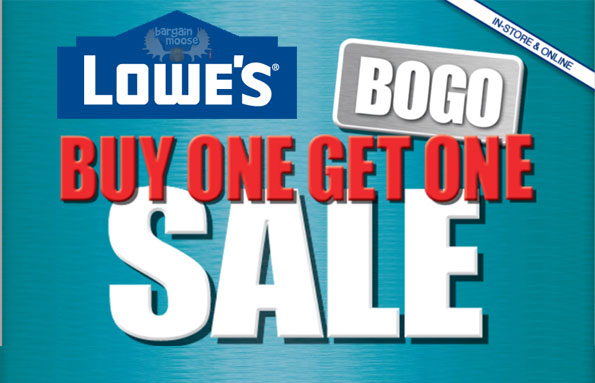 Until Wednesday, you can take advantage of a "buy one, get one free" deal at Lowe's on select appliances, kitchen faucets, kitchen cabinets and water dispensers.
Admittedly, Lowe's seems to have cheated ever so slightly on their promotion because they have also included a BOGO 50% off deal on an Amana white laundry pair but if you're in need of a new set, then even such an offer is an amazing one! During the course of the BOGO sale, you can get the Amana laundry pair for just $996 instead of its original price of $1496. In fact, the washer has actually already been discounted to just $672 (reg. $848) and by adding both to your cart, you can get the dryer for just $324 (reg. $648) for a total of $996. Off the original total, this is $500 in savings, which is actually 35% off.
The washeris a 4.7-cu ft high efficiency front-load one and the dryeris a 7.4-cu ft electric dryer. What's cool about the washer is that it has a delay wash option. So if you live in one of those areas where utility rates are higher at certain peak times, then you can simply load your clothes in, turn on the delay wash function and have it turn on in the middle of the night or whenever the costs are the lowest. Don't forget that you still need to get your own fill and drain hoses as these aren't included.
With regards to the kitchen faucets, the BOGO offer applies to the Pfister VOSA stainless steel kitchen faucet, which is regularly priced at $114.50. As for the water dispensers, you can get a free Greenway home products pitcher replacement filter with purchase of a Primo bottom-loading hot & cold water dispenser.
Planning on re-doing your kitchen? Then you're going to want to take advantage of Lowe's' kitchen pantry deal. For any 6 cabinets that you buy, you can also get a pantry for free. Choose among the following collections:
If you choose to shop in-stores instead, then you can also choose among Brookton or Caspian cabinet collections.
Keep in mind that although the Lowe's BOGO Sale officially expires October 8th, all of the merchandise is also only available while supplies last. As for shipping, you can either choose to ship to your nearest store for free or by Lowe's truck delivery at an extra cost. For the laundry set, for instance, delivery by truck came up to $75.
(Expiry: 8th October 2014)