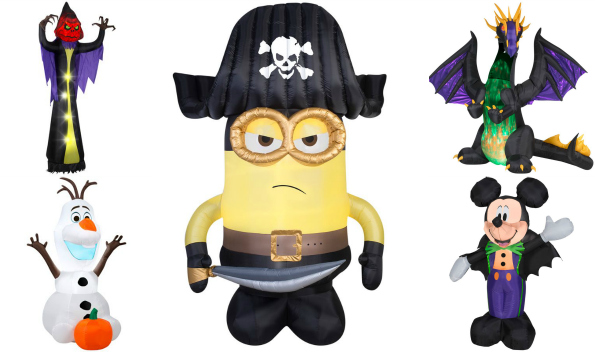 Holy Minions, Batman! Lowe's Canada just started their awesome flash sale and they have this HUGE Gemmy 9-ft Pirate Minion Halloween Inflatable on sale from $129 down to $51.60. You will receive free parcel shipping on this awesome inflatable!
This inflatable is massive, and it is designed for outside use. You can stick it in your front yard for Halloween or speak like a pirate day. In the summer, you can have it out in the back yard for the kids to play around. If you have REALLY high ceilings in your house, then you could get away with sticking it inside.
This inflatable needs a power source, and it comes with an 84" long cord. It self-inflates in seconds once it is plugged in. The Minion inflatable includes everything you need for setup so there are no extra accessories to purchase. The material is weather-resistant so the odd bit of October weather shouldn't bother your giant Minion. I think, for Minion fans, this might be the ultimate gift.
This is not the only inflatable on sale in Lowe's Flash Sale. You can view all inflatables here. The prices you see on that front page are BEFORE discount. For example, this Gemmy 3.5-ft Olaf Halloween Inflatable was $24.99 but is now only $10. I think he would be the next most popular inflatable because Frozen toys are still a hot ticket item for kids. This inflatable is much smaller, so it could go in the house. It would also be an awesome inflatable for Christmas as it is not actually 'Halloween-themed' and I always think of a Snowman for Christmas anyway.
My favourite inflatable is the Gemmy 9-ft Animatronic Dragon Halloween Inflatable on sale from $169 down to just $67.60. You save over $100 and you receive free parcel shipping. All of the inflatables receive free parcel shipping on orders of $49 or more as long as they are in stock.
There are also some very 'Halloween Themed' inflatables like pumpkins, ghosts, Frankenstein, and more. Check out this sweet sale before it expires - today only!
(Expiry: 6PM EST 30th October 2015 - it might be extended)